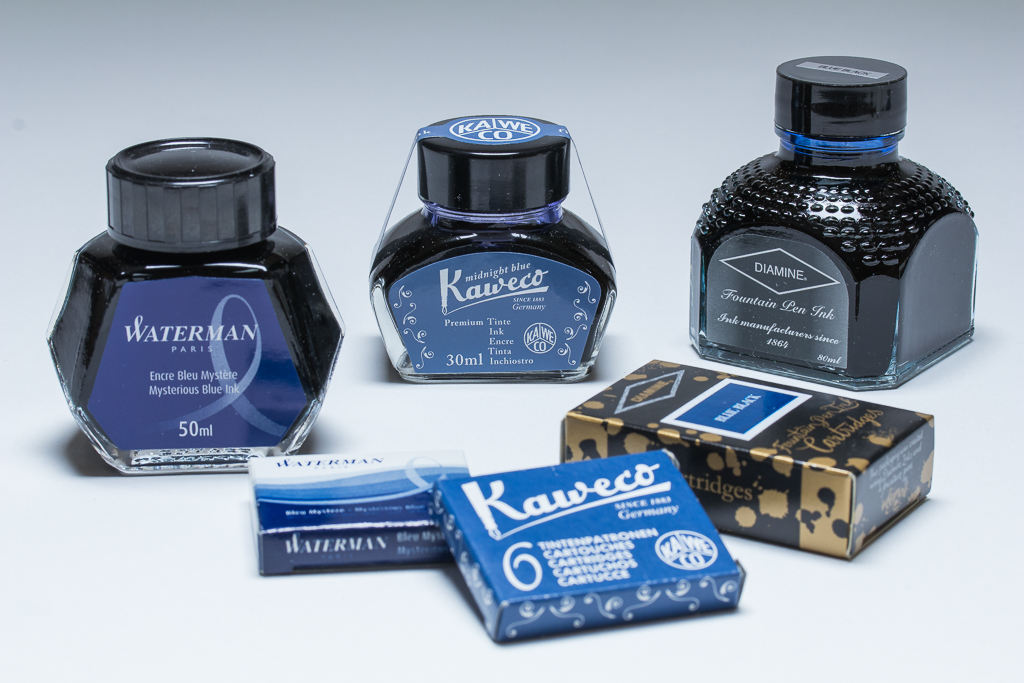 Brown isn't the only ink that I am passionate about. Blue-blacks also bring me a huge amount of writing pleasure. There is a magical quality about this colour that is hard to describe. When pen goes to paper the ink oozes class but it won't let you easily define it into a specific colour group. Your brain wants to tell you that it is a blue. But... it... well, isn't... sort of...
There are three blue-black inks that I would definitely suggest for a more formal writing experience. If you find regular blue such as Waterman Serenity Blue and Diamine Blue Velvet a little bright and black a little boring then consider one of these recommendations.
If I remember my colour theory correctly, there are only three primary and three secondary colours. Blue, yellow, red, orange, green and purple. Adding white forms hues, shades and tints. But important for the subject of blue-black ink, is black! Shades are formed by adding black to the original colour, so mixing black to blue makes for a darker (mysterious?) blue.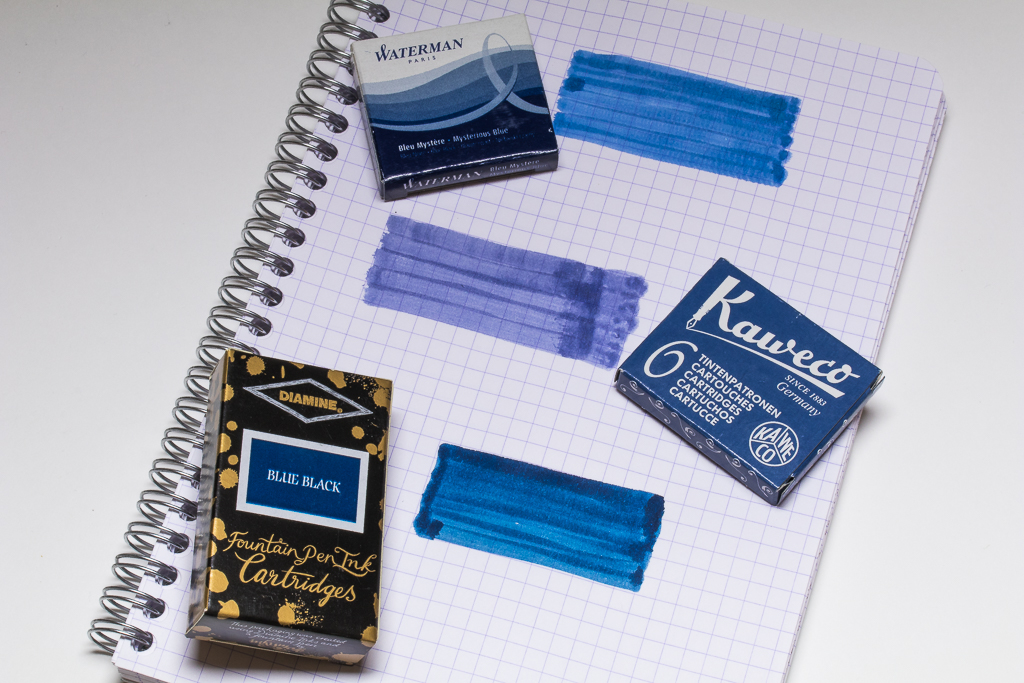 Diamine Blue-Black.
Don't let the simple name of this ink deceive you. This is my number one go to blue-black ink. I instantly fell in love with it when I first tried it and it has become the de-facto ink in my Pilot Capless Splash. I must admit that I stole a couple of boxes of cartridges off the shelves for my personal stash as well (don't you just love being a pen seller)!
Diamine inks flow extremely well and they are also very well behaved. Their 80 ml bottles provide plenty of excellent colour that should last you some time. But if you love this ink as much as I do you'll find you guzzle it down in super quick time. Diamine blue-black produces a very saturated colour that gives an awesomely defined line on the paper. It has a lot of character and some shading but it's extremely appropriate for those times when you have an important document to sign.
Kaweco Midnight Blue.
Kaweco produce lovely bottled inks but for some reason they are not the most popular seller. The cartridges fly off the shelves along with the Sport fountain pens and there seems to be a real convenience about that combination!
In my mind Kaweco's blue-black ink is about the purest of the lot! The Kaweco shade is quite different to Waterman and Diamine. There is a hint of purple ... or not ... I can't quite decide. But never the less the ink is a fantastic colour to write with. You'll find you have more shading than with Diamine's highly contrasted ink. For my money Diamine wins out on shear sexiness of the saturation, but Kaweco has a very organic-earthy feel about its colour and it is almost as lovable as their gorgeous Sepia Brown.
Waterman Mysterious Blue.
What can I say about Waterman Inks? We often get phone calls from customers asking what the best ink would be for this pen or that pen. Usually a family heirloom or a very expensive fountain pen that has been neglected for a few years only to be cleaned up and loved once again.
Without hesitation I recommend Waterman inks. Always. And most of the folks who call up seem to leave with either Serenity Blue or Mysterious Blue. Waterman produces fabulous well behaved inks. Predictable and luxurious. And I think that last word hits the nail on the head.
Waterman inks are a pleasure to write with. Their blue-black is gorgeous – a little less in your face than the Diamine but with more character than Kaweco's. The most important element of a good writing experience for many people is consistency. Reliability. And I'm more than happy to recommend Waterman every time. The most popular sellers are the gorgeous Serenity Blue, Midnight Black, and of course Mysterious Blue.
Each of the above manufacturers also supply the inks in short international cartridges for those who prefer them. Diamine cartridges will be coming to the store soon but Kaweco and Waterman are always available.
Do you have a favourite blue-black ink?