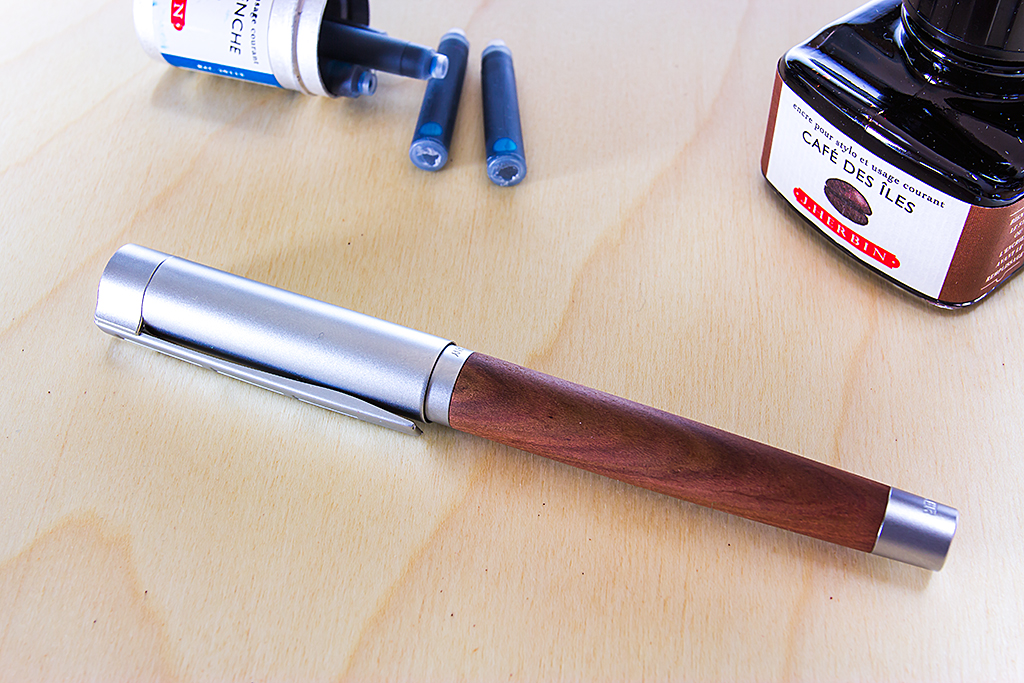 In the Fall of 2015 Ling and I were very happy to attend Scriptus Toronto. This wonderful fountain pen show is going a long way to bring pen enthusiasts, manufacturers, and retailers together to share their love for writing instruments and the products associated with them.
Some wonder why on earth any manufacturer would want to sell fountain pens in an age where digital devices rule the world. Most people use cheap ball point pens in their day to day lives and writing is becoming a lost art with kids.
Staedtler Mars GmbH & Co. KG has been in the business since its founding in 1835. You will know them from their large variety of wood-cased pencils, erasers and ball points. You probably used their compasses, glue sticks, scissors and rulers when you went to school.
But there is a little secret about Staedtler. Recently (we're talking only a couple of years) they have been manufacturing high-end fountain pens. We met the guys from Staedtler at Scriptus and quickly struck up a friendship. And we are now proud to carry some of their products at Knight's Writing Company.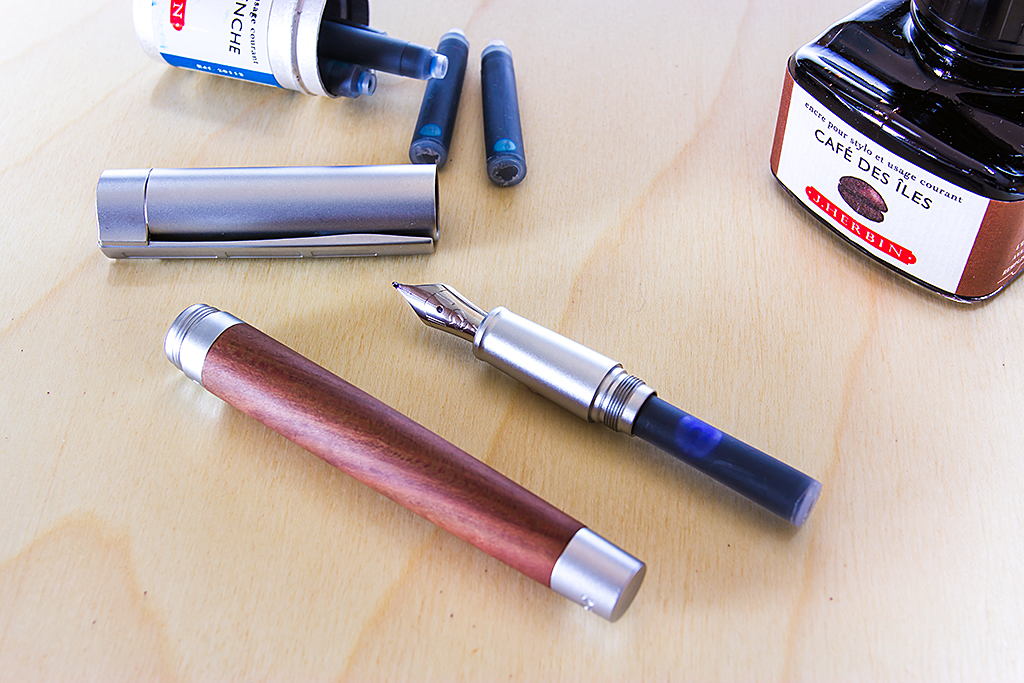 The Initium Collection presents a gorgeous array of pens, pencils, and accessories for the avid writer. The Resina range includes beautiful fountain pens cast from high quality resin. The Metallum range are made from luxurious anodised aluminium and have a silky-smooth feel when writing with them, and the unique Lignum range show a fusion between precious metal and natural exotic wood.
Knight's Writing Company carries the Metallum and the Lignum fountain pens, and I must say they are beautiful. At $259 and $279 the price point is high, but in this case you really do get what you pay for.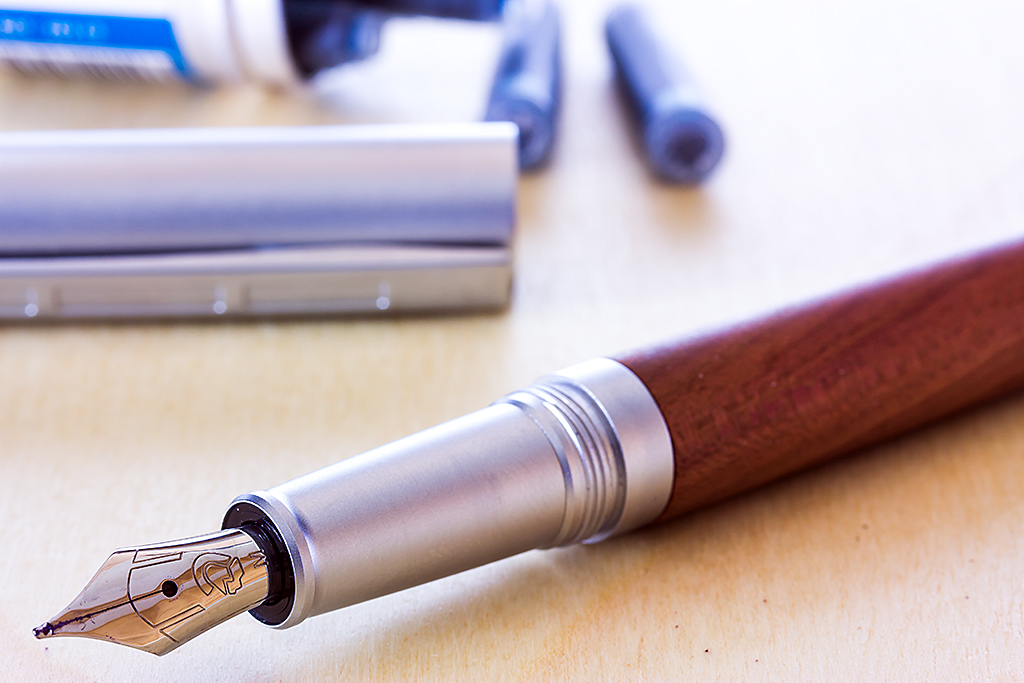 The first thing you notice about these pens is the weight. They are heavy, weighing in at 47g. Not the kind of pen you would give to someone with small hands. For comparison, the Lignum weighs just over four times as much as a plastic Kawco Sport and twice as much as an AL Sport. Much of the weight is in the cap, so if you write without posting you'll have a lighter experience.
The feel of the anodized aluminium is gorgeous. The pen doesn't slip in the hand and the quality of manufacturing really shines. When you hold the pen you feel that you are handling a higher quality product. 
Being from a wood turning background, I have a special affinity to wood. I found the maple Lignum a little too white and bright for my tastes but some will find it extremely attractive. The plum wood is truly beautiful in my opinion. The wood barrel is extremely well machined and smooth to the touch. There are no gaps between the wood and metal and it feels like the wood will last for many years without cracking or blemishes.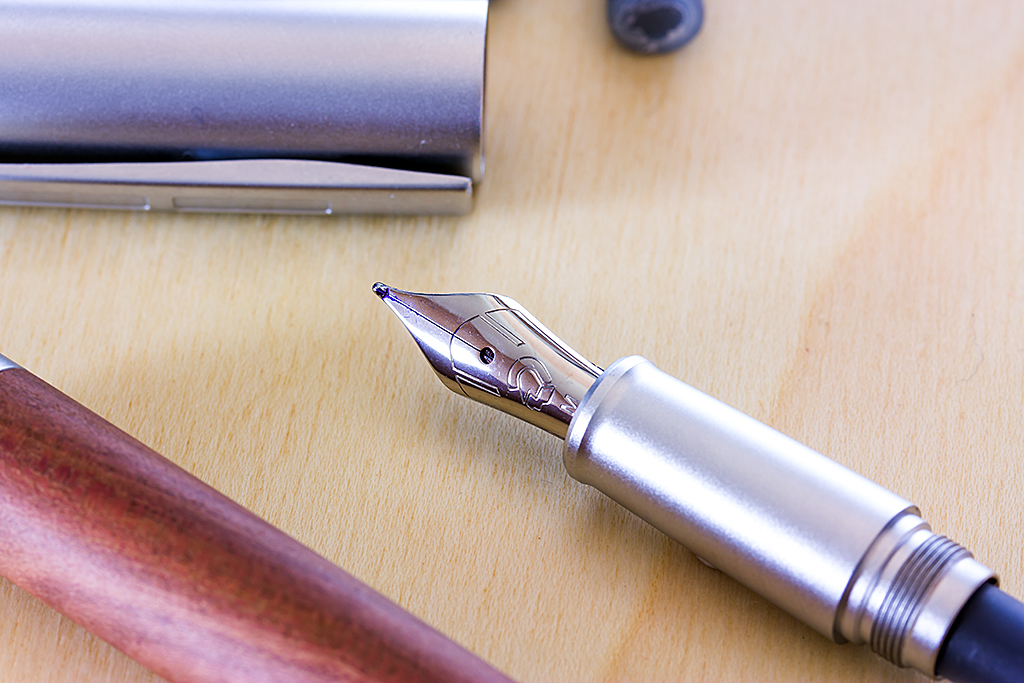 Each and every barrel is unique and I love the fact that the wood is unfinished. Over time the natural oils of your hand will colour the wood and the pen will truly become a part of you. Resin pens are very nice, but the wood turned barrel of the Lignum offers something truly unique. The pen brings a great deal of pleasure in daily use, and my only concern about unfinished wood is that I might spill ink on it - I'm not sure how well it would clean off.
If you surf the Internet or talk to an old-school fountain pen user, they will likely tell you that a gold nib brings the best writing experience money can buy. My experience is that as manufacturing technology improves so do steel nibs. In my mind, Staedtler's premium fountain pens prove this. I've been using a medium nib for some weeks now and this simply designed nib has performed fantastically.
The nib complements the quality feel of the pen barrel and cap, looks great, and writes stunningly. It has to be one of the smoothest pens I've used.  I'd be interested to try some of the other nib sizes to gauge performance but I think the experience will be the same.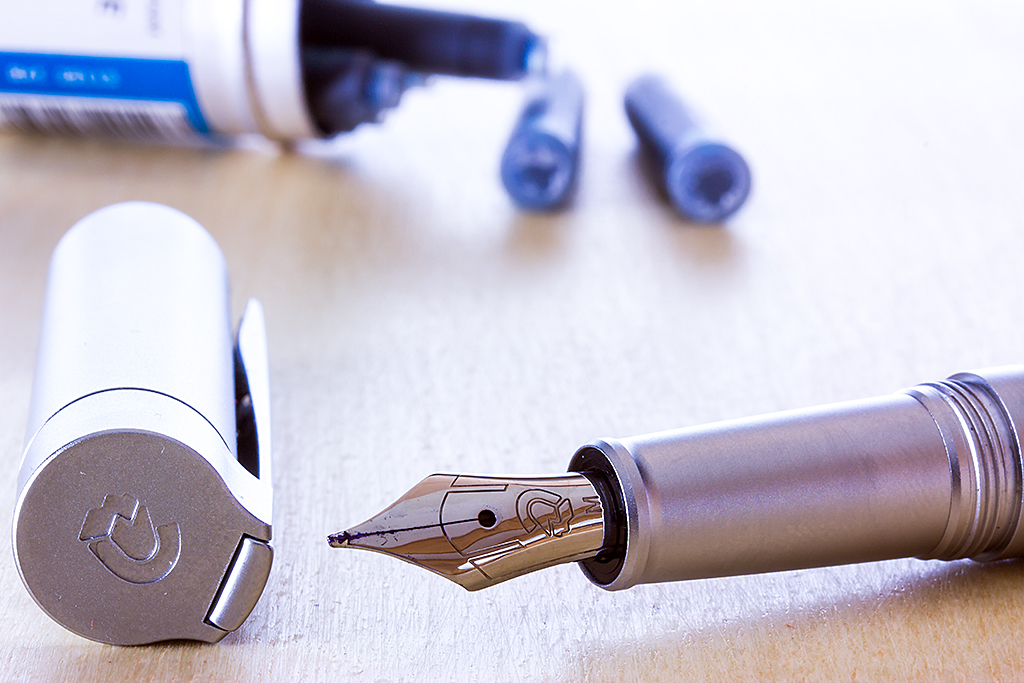 The pen comes with a converter and also takes international style cartridges. You can use your favourite inks from a wide range of manufacturers because you are not limited to a proprietary cartridge fitting (such as with Parker's pens). We also offer this pen with a choice of brown or black leather pen case. All of this is bundled in a nice looking gift box. The thing is, I couldn't possibly think of giving this pen away as a gift - I love it too much!
The plum wood Initium Lignum fountain pen from Staedtler is stunning. Yes this pen is expensive and out of the price range for many of us, but it is a gorgeous writing instrument worthy of its price. I had a few friends try the pen with some good paper and all were impressed with the feel of the meta and wood, not to mention the quality of their writing experience. This is a pen to relish and enjoy and not one to forget about.
Specifications:
Material: Metal & Wood.
Closed: 137 mm (5.39 inches).
Posted: 155 mm (6.1 inches). 
Open: 125mm (4.9 inches).
Converter: Included.
Leather case: Included.
Cartridge type: International.
Cap type: Screw.
Nib colour: Silver.
Nib material: Steel.
Weight: 47g (1.65 oz).
Gift box supplied.
Product # SL_PW.