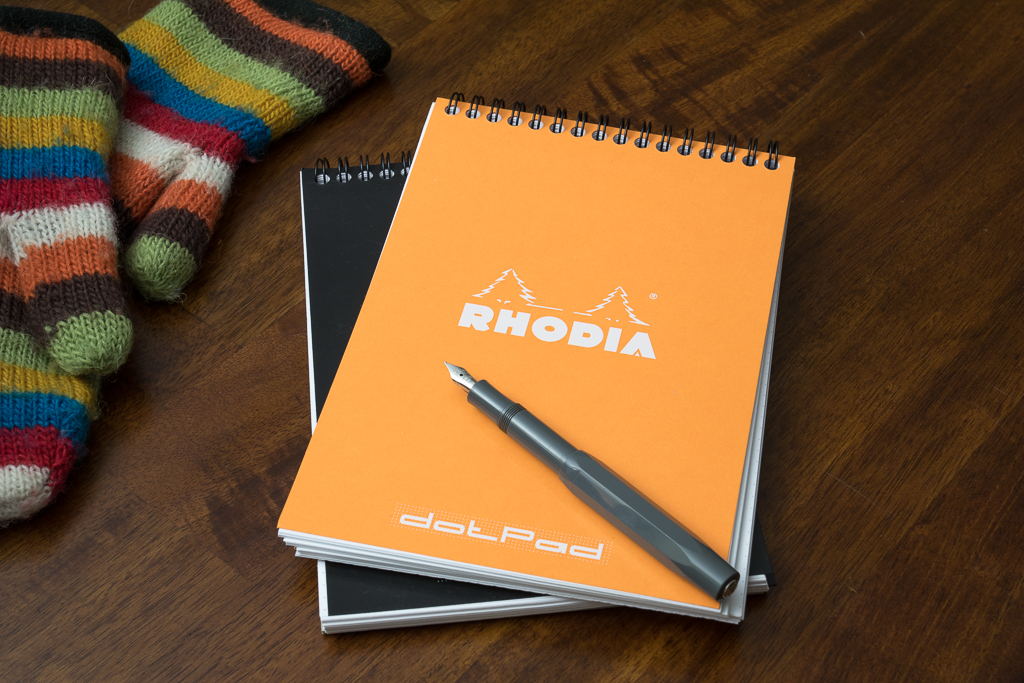 I'm new to the Rhodia range, having used and abused an alternative brand for the last twenty years: the two reasons I agreed to try the Rhodia dotPad out were a) to do Knight's Writing Co. a favour and b) because shifting to fountain pens as my main writing tool had highlighted an issue with slight scratchiness and feathering on my notebooks of choice, at least with the pens I was using. The fountain pen community I recently joined mentioned Rhodia as a good paper to use, and Graeme (Mr Knight's Writing) sent me a spiral-bound dotPad No. 16 (A5) to try, so I agreed to let him know how I got on with it.
A Little History
A little history (I like to know where my pens and paper come from): Rhodia originated as a French family brand in the late nineteenth century, with the first Rhodia pad made in Lyon in 1934. Rhodia was acquired by Clairefontaine (another French family producing superior paper) in the late twentieth century, with some members of the original Rhodia company family staying on with the brand.
The brand name stems from geography (the local Rhone River) and the family's ties to the area (local people are called Rhodaniens), and the all-important logo of two non-identical spruce trees (yep, I had to go and have a look on the front of the pad to check) represent the two Verilhac brothers, with both brand and logo developed by their mother.
Before I get on to the actual paper, I must say that I do like the looks of the Rhodia range: the distinctive logo, the use of black and orange, the simple styling. They have recently bought out a range of small, hard-back notebooks that come in a range of colours, and these are lovely, but I hope they keep to the minimalist ethos, only using different colours for special editions. The simple styling, for me, is part of the attraction.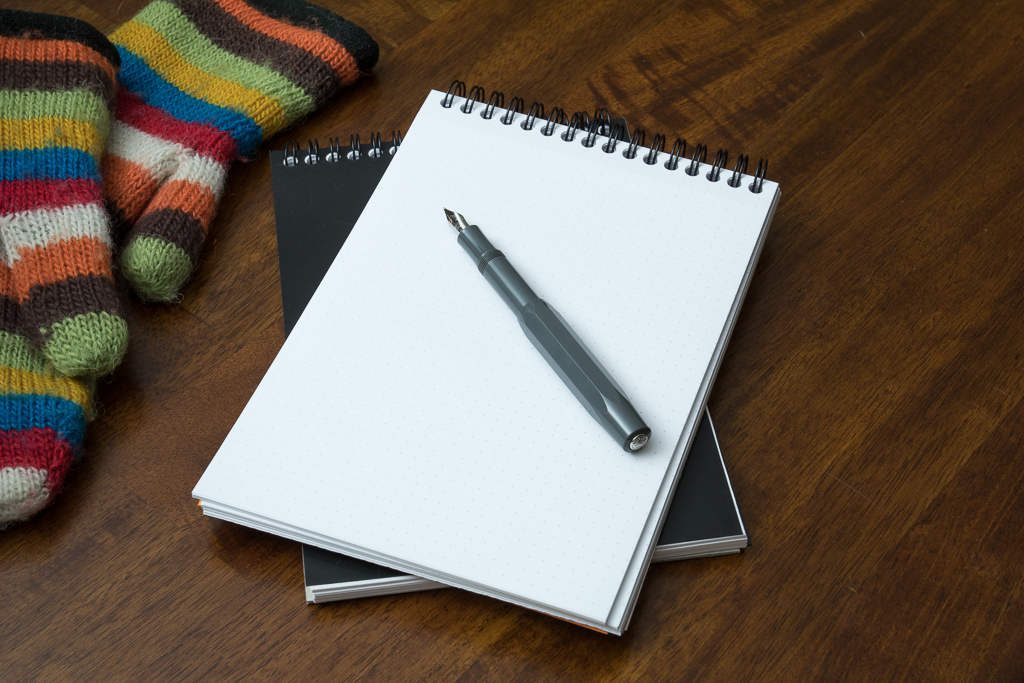 So what about the paper?
The paper used in the Rhodia dotPad No. 16 is 80g high grade vellum, covered in a light violet grey dot matrix. I usually prefer blank paper for writing, as I find lined pages too prescriptive: the dot system is a fantastic compromise, with the dots barely visible in some lights, but giving enough guidance for decent penmanship. I find it useful for doodling as well (not that I should be doodling, but...). The weight of the paper is what I might term 'medium', although I am no expert- using a medium nibbed Lamy fountain pen in dark blue, there was hardly any show-through unless held up to the light. Using a black ink Parker rollerball, writing on the other side of the page did show through a little more, as one might expect- however, it was far less than I expected.
The paper is smooth to the touch, and none of my fountain pens or rollerballs catch or scratch when writing. It is, overall, a very easy experience. This is important to me for a particular reason: this paper helps with the efficiency of my writing, extending the length of time I can write before my hand gets tired, or cramped. There is also no feathering/bleeding with the ink (using Parker, Kaweco and Pilot in my tests). I did wonder if the smoothness might affect drying time, and there is a slight delay with the Pilot Iroshizuki ink, needing 5 seconds to dry. This might therefore be an issue for left-handers, depending on the ink used.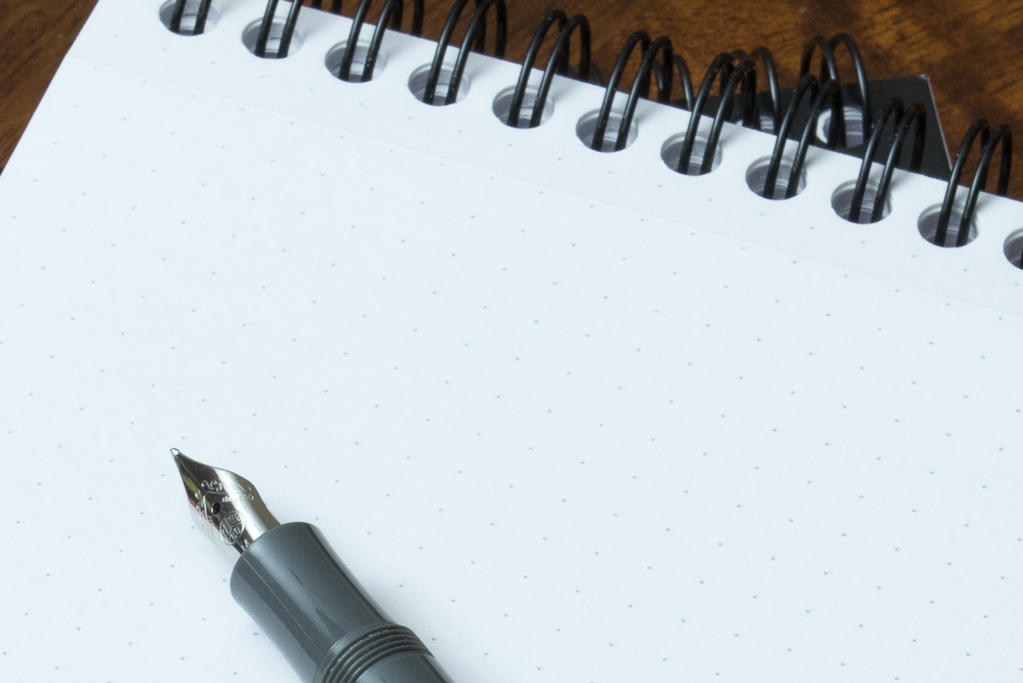 The Pad
Rhodia pads come in a number of sizes, either spiral-bound or stapled, both with perforations at the top of the sheets. Combined with a solid (and recyclable) cardboard backing, this results in a pad that sits nicely flat and can be used on the knee: however, with the spiral-bound, there is a slight issue with tearing the perforations without ripping out at the spiral bound top. This might just be due to my super-strength (kidding), and can be easily overcome with a judiciously placed finger tip.
In summary: I am usually loyal to a fault with my stationery. Bottom line? The combination of ease of writing, minimalist styling, and mid-level cost means I've shifted allegience to Rhodia, and have even bought myself a Rhodia hard-backed pocket diary. Sorry, previous favourite brand.