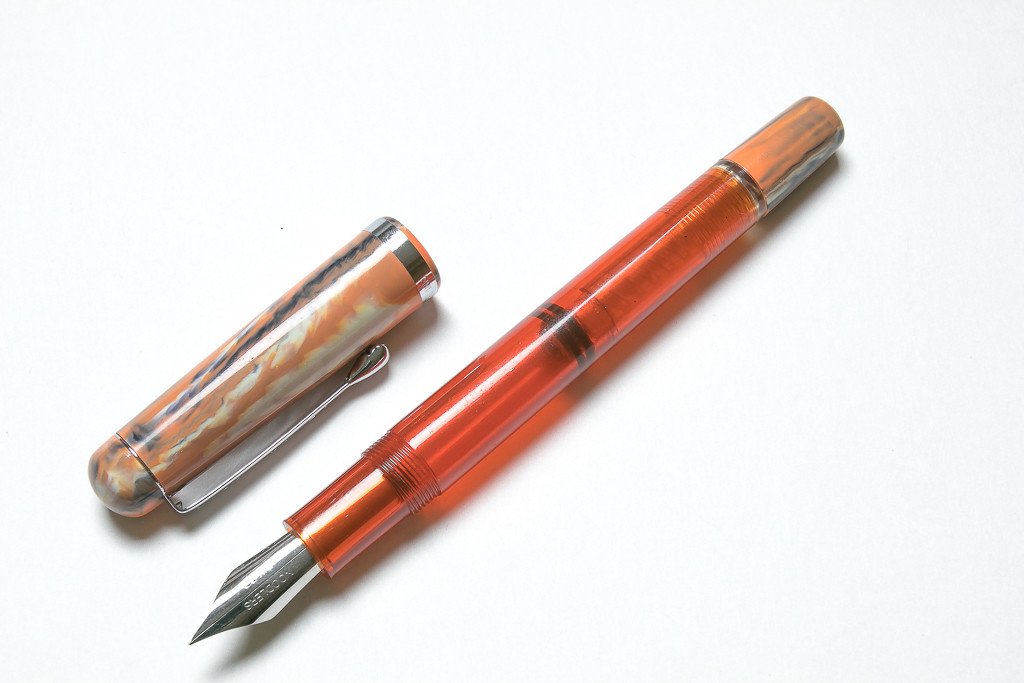 We recently updated our collection of Noodler's Ink fountain pens on the Knight's Writing Company website. Although we don't have a vast selection to choose from, what we have are popular with customers.
Noodler's Ink produces fun fountain pens that have their place in the world, but they are a different beast compared to Kaweco, Waterman, Lamy and other mainstream manufacturers.
So how do you know if a Noodler's Ink fountain pen is for you? Take a look at the six questions below and you'll quickly have a sense of whether to invest or not.
Do you want a pen that you will most likely have to tinker around with?
The first thing to know about a Noodler's Ink pen is that you are likely to get inky fingers. This isn't necessarily a bad thing, but the friction fit nature of the nib and feed will at some point need adjusting. There is a high chance that you will experience leaks and you could have a nib and feed fall out of the pen causing a colourful pocket explosion.
Sounds terrible? Yes if you love predictable well known fountain pens, no if you love the idea of a quirky fountain pen and all the intricacies that might come with it.
Do you enjoy unique products from boutique companies?
Noodler's Ink is a boutique company. To me this means that the products have a different level of quality and a different target market than the mainstream manufacturers. Their fountain pens are very unique and as I mentioned, fun!
We have had one or two customers complain about the nibs and leaks but as I tell them, you can't compare a $29 pen from a boutique company to a $120 Waterman.
Noodler's Ink have the philosophy of creating low cost fountain pens similar to those produced in an era long gone. Remember this and you'll enjoy the experience.
Do you mind a scratchy nib?
Noodler's Ink produce some of the worse nibs on the market (in my opinion).
The great thing about the nibs is that you can fix them yourself if you do experience scratchiness, by smoothing the tip with a super fine grit pad similar to those used for polishing wood.
I would never do this with my favourite Kaweco! For a Noodler's Ink fountain pen, it's all part of the tinkering. That's not to say your nib will be scratchy, but be aware that it might.
Do you mind a smelly pen?
Odd. Smell. Hmm. And they do. It's the plastic they use. The smell will wear off and oddly it's something I love about Noodler's Ink fountain pens.
Are you looking for a flex nib or a nib that gives a consistent line?
Noodler's Ink fountain pens generally have 'flex' nibs. These nibs have some give in them so that you can vary line thickness and give shade to your lettering similar to a calligraphy dip pen.
I don't know anyone who uses a Noodler's Ink pen for calligraphy as the nibs for dip pens are specifically designed for this purpose, but there are those who write beautifully with a Noodler's fountain pen and make full use of the flex.
For us beginner's it sometimes ends up a little splotchy. You can reduce or increase the flex by moving the nib higher or lower in the feed (remember what I said about inky fingers and tinkering?) but if you're looking for an every day writing pen with a consistent line then they might not be for you.
Are you happy to use only bottled ink?
One thing I really love about Noodler's Ink fountain pens is that they have a piston converter built right into the pen. And they take a lot of ink. This is pure genius in my opinion.
While I love using cartridges, I often want to use bottled ink and I do get annoyed when I have to get hold of a converter and plug it into the pen. Noodler's Ink solves this problem beautifully and the converter mechanisms are really fun to use.
Conclusion?
While I do use Noodler's Ink fountain pens from time to time, they aren't a pen I would use on a daily basis. I wouldn't carry them around in my pocket or bag. I've had some nibs fall out causing a bit of a mess. But I would keep them on my desk for occasional use and tinkering.
The pens are more than a gimmick and have a large following of people who love them. They have their particular market.
If the six points above don't scare you away then give a Noodler's Ink fountain pen a try and enjoy the unique experience that owning one brings. You'll end up loving it in some strange way.
Do you have a favourite Noodler's Ink fountain pen?