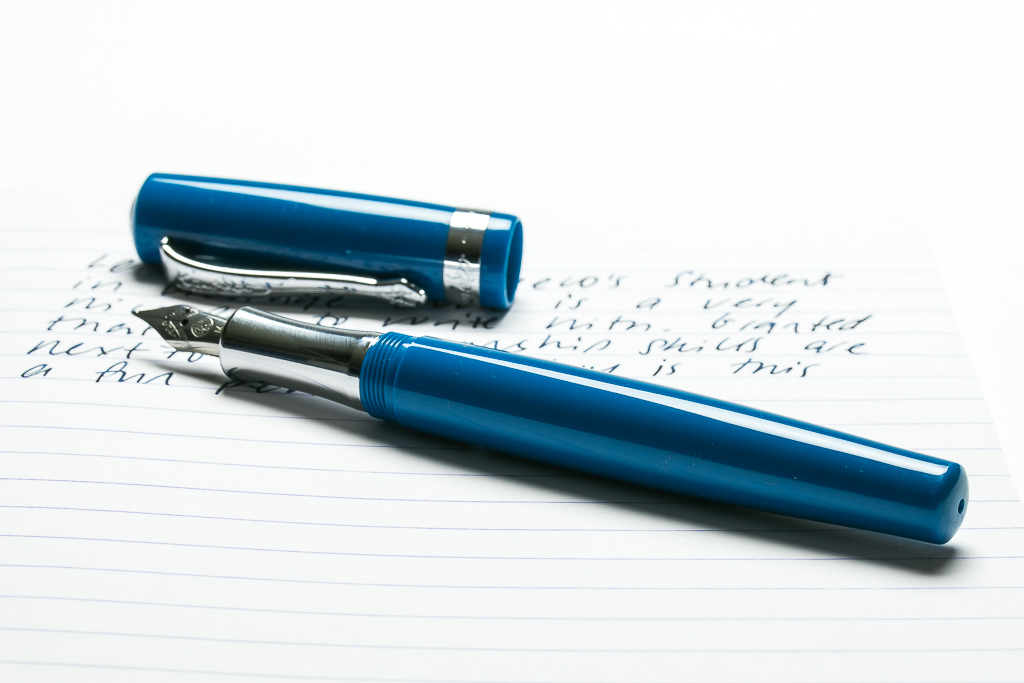 I have to admit that I have completely dropped the ball on keeping the Knight's Writing Company blog and newsletter updated over the last few months.
I've been trying to grow sales for Knight's Writing Company and Cool Chess Canada and travelling the world. Fulfilling orders and generally being bad with time management hasn't helped.
However one thing has remained consistent. My love of fountain pens and living the geeks dream of playing with a different pen every day. This is not as nice as it sounds! When you have too many pens inked up, it can be difficult to appreciate any of them.
But lots of fountain pens means the opportunity to write lots of reviews. And I really should step up to the plate and do that.
We're getting ready for Scriptus 2017 in Toronto this coming Sunday. I'm cleaning some pens to be inked up as samples. Do come and try them out. One of these is the Kaweco Student. It's a pen that I have been enjoying for several weeks. Let's take a look at it...
First Impressions
I had toyed around with doing a video on this pen. It would be a good opportunity for you to meet me as well as see the pen up close and personal. There are lots of excellent pen review videos on the Internet and I haven't yet plucked up the courage to do one. But if I were then it would be for this pen. The vintage blue is gorgeous. Such a pretty colour and I'm always excited to pick up the pen and use it.
The chrome trim looks fantastic and contrasts the sharp blue very well. As always, Kaweco's quality is exceptional. I've been playing with some North American fountain pens of late (possibly manufactured in the far east) and I am always astounded by the precise engineering and quality that the German manufacturers attain.
Don't let the word Student in the name fool you either. I certainly wouldn't give this pen to any student I know – preferring to keep it close to my notepad instead!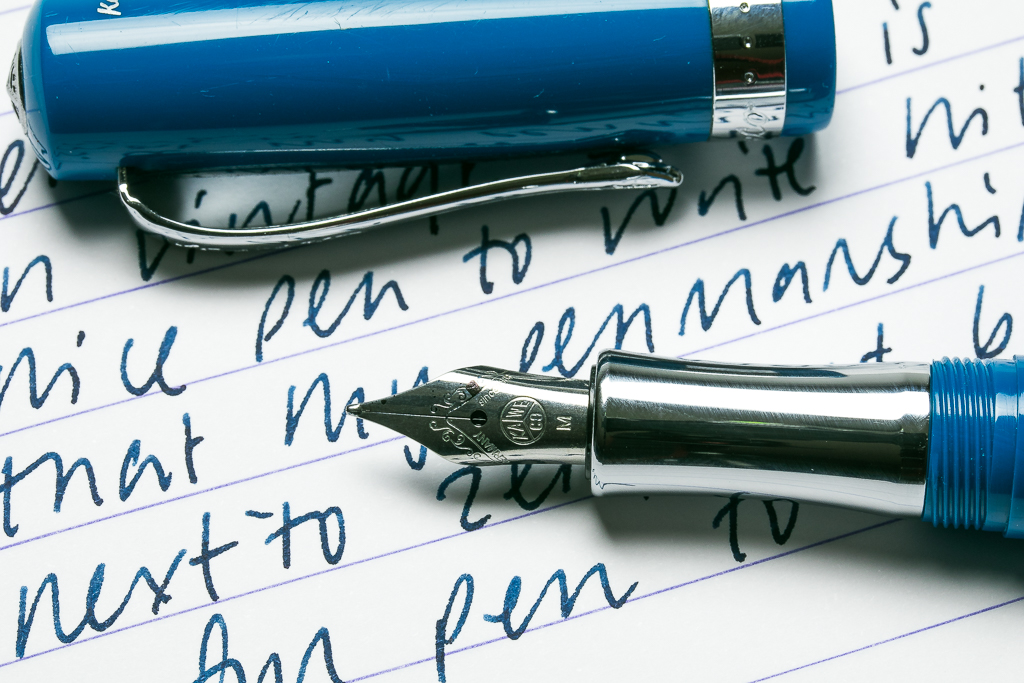 Barrel
The Kaweco Student has a lovely shapely barrel and cap and the properties of the acrylic are used to the full. Much thought has been put into the design of the barrel and the result is a pen with pleasing aesthetics, rather than a dull and boring machine turned or moulded body.
The nib section is chrome plated brass and while you may think it would slip out of your fingers, it doesn't. The chrome trim accents are lovely and work well with the blue. The vintage style clip is both solid and functional. The only problem you may find is that you may just want to sit and fondle this pen rather than write with it.
Ink System
The Student takes international standard cartridges and the barrel easily carries a spare if you use the short version. Another option is to use a Kaweco or similar sized converter for bottled ink. The Kaweco nib and feed are very reliable and ooze quality you'd expect from a premium Kaweco.
The unit that houses the nib can be unscrewed from the section and allows you to easily swap nibs. The whole package is sublime and gives one of the most reliable and least messy ink systems on the market.
Nib
The standard nib shipped with this pen is made from steel. I opted for my usual medium because I like the wet flow and a thicker line that the medium gives. I wasn't disappointed. The nib exhibits excellent writing qualities and a smooth consistent line. Good quality paper is also important and I tested the pen on a Rhodia notepad.
I swapped the nib for a fine and found that although the line is noticeably thinner, the pen still writes very well. You will rarely have problems with railroading, skipping or scratchiness with Kaweco nibs and they seem to have good consistency.
I tend to do one thing with pens before using them – especially if they are fresh from the box – cleaning with a drop of washing up liquid diluted in a cup of water followed by a good flush under the tap. This gets rid of any manufacturing material that might have worked its way into the feed.
Although fountain pens generally go through rigorous quality assurance, I always feel that the flow is better after a cleaning. I'd also recommend using a high quality ink such as Waterman or Diamine for this pen to give an extra level of quality and reliability.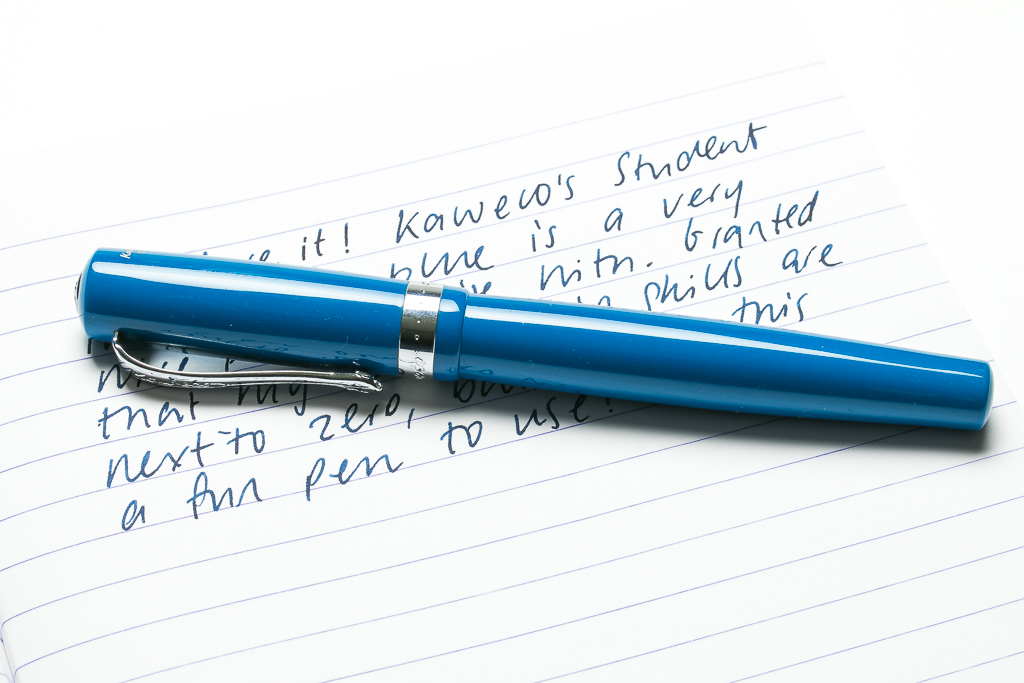 Options
The Student comes packed in Kaweco's lovely metal display tin and also comes with a single cartridge. A converter is not included. The pen comes in a variety of colours including yellow, black and transparent. I will admit I was drawn to the lush colour of the vintage blue. Aside from pen cases and nibs there aren't any extra options for the Student. But don't worry, you won't need them. This is a lovely pen.
Final words
The Kaweco Student is a little shorter than some pens at around 5 inches when capped. Approximately half an inch shorter than a Lamy Safari. The cap is screwed as opposed to snapped and this adds to the quality feel.
The Student has some weight at 26 grams and it does feel as if you are holding a premium product. The Kaweco logo is printed on the back of the cap and unlike other pens it doesn't feel like it is going to rub off after a couple of weeks of use. The cap is also tipped with a chrome Kaweco logo, although I would have preferred this to be steel instead of plastic. It's not a deal breaker.
The Student is definitely a fountain pen you will want to add to your collection. It's an every day writer that is sure to bring a smile to your face when you are in a work meeting or writing on a dark cloudy day. I love it! I really do!