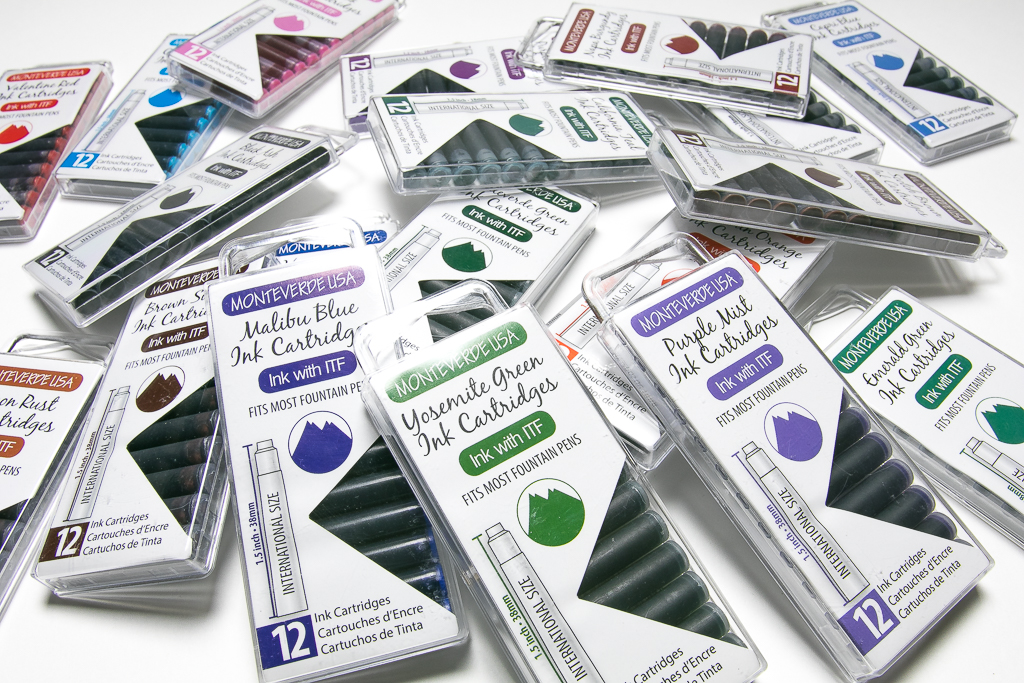 One of the new brands of ink that we stocked in recent times was Monteverde. The 30ml bottles come in a range of bright and vivid colours and are packaged in attractive bottles. Being a fan of blue-black ink I filled up with exactly that and was happily surprised with the performance of the ink. I had a nice smooth writing experience with a fine nib Kaweco.
Monteverde touts that their ink contains an Ink Treatment Formula (ITF) that lubricates and protects the nib and feed. Regardless of whether you believe this or not, the ink flows very nicely indeed. I put it on par with Diamine although the writing experience feels a little dryer.
The 30ml bottles have been selling well and they are turning into a favourite for the store. We recently took stock of Monteverde cartridges and have just introduced them at Knight's Writing Company. These cartridges are great in two of ways. It's nice to have the vivid colours of Monteverde in a convenient international standard cartridge that fits most fountain pens (unless you have a proprietary fitting) and the box the cartridges come in is fantastic for storage. I've never been a fan of cardboard boxes for storing my cartridges, but having a stiff plastic box is super!
The price of $7.50 for twelve cartridges is quite competitive and the colours available are varied and unique. You could do worse than try a box of Monteverde cartridges for your fountain pen.