Noodler's Ink is a small but well known manufacturer of fountain pen inks. Their inks are 100% made in America and they have a huge range of colours. Kiowa Pecan is an interesting ink because it comes under the umbrella of Noodler's 'variable combination' inks.
This means each individual bottle contains slightly different variables - different ink component proportions resulting in a different colour PER bottle. But don't let that put you off - I'm certain each bottle of Kiowa Pecan is just as gorgeous as the next.
It seemed fitting to test this ink with one of their own pens - a Nib Creaper with a flexible nib on lined Rhodia 80g white paper.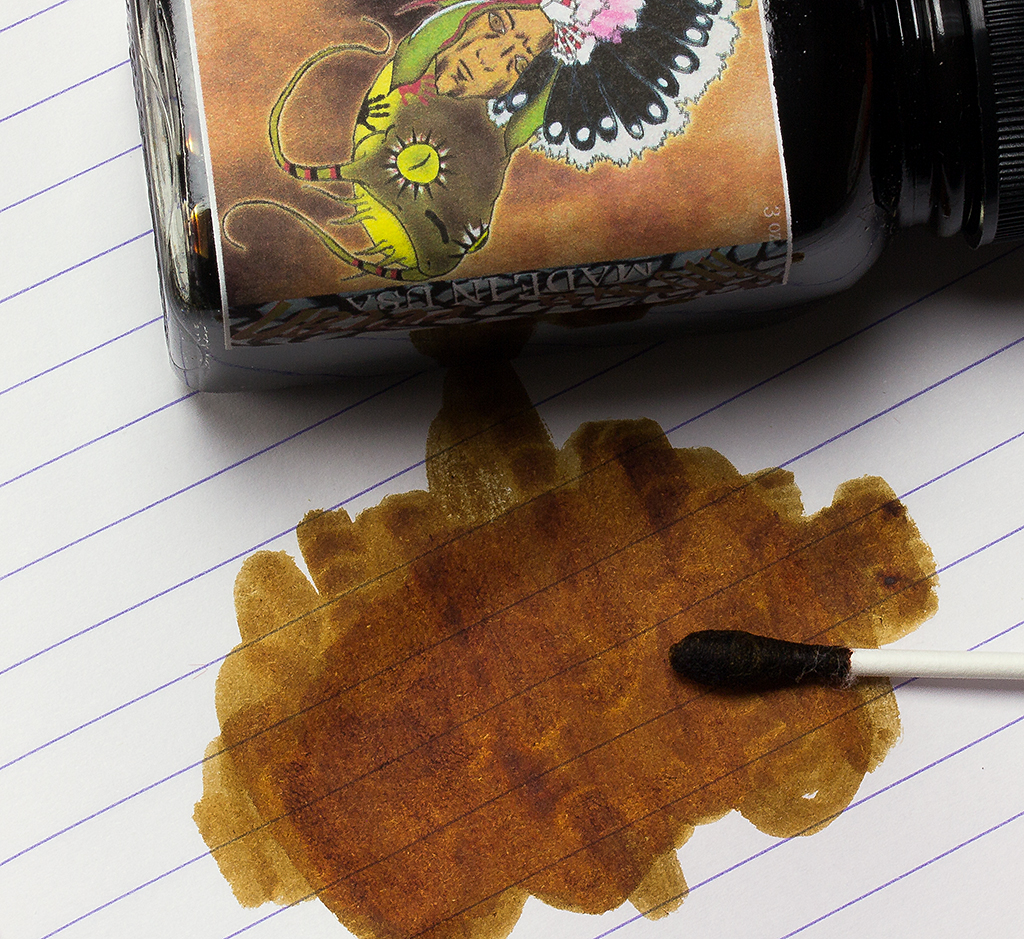 While we were unboxing our recent shipment of Noodler's Ink I fell in love with Kiowa Pecan!
I've been using Kaweco Sepia in my DIA2 and I've been enjoying brown, but when I took the ink swab for the product photograph I was instantly attracted to the sumptuous nutty colour - it had an interesting light to dark spread of shading and was most definitely not a deep chocolatey colour like many other browns. 
This ink is earthy and natural, full of character, and certainly not boring! It has a hint of gold and yellow hidden deep within.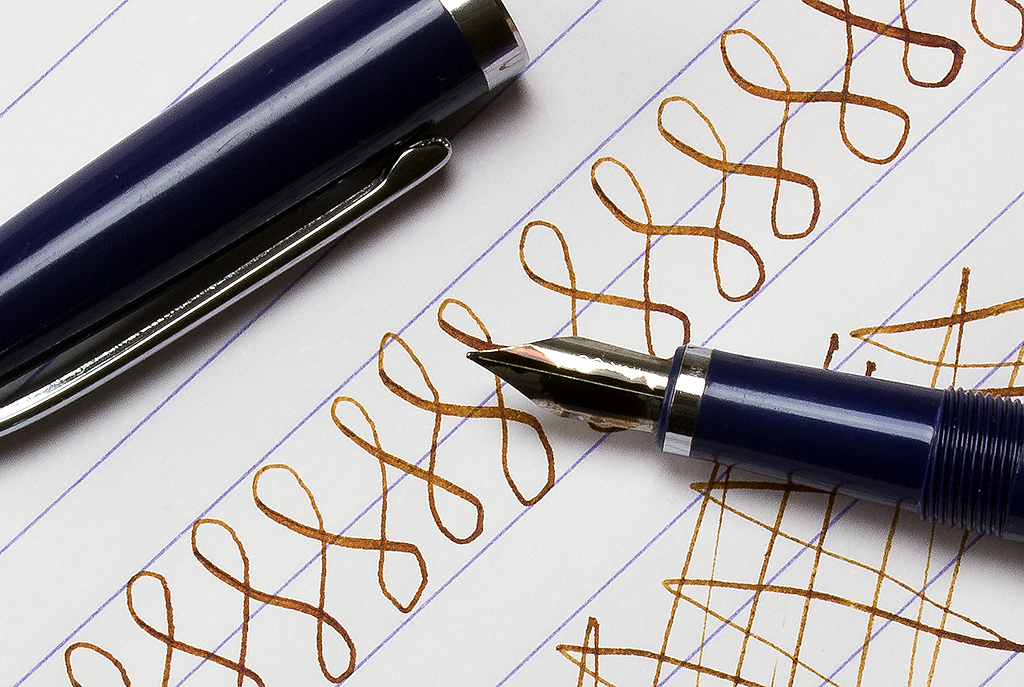 A few tests with drying time show that Kiowa Pecan is a fairly slow-drying ink. Five, ten, and twenty seconds resulted in smudging to lesser degrees using a dry finger. At around thirty seconds the smudging stops and the ink can be considered dry.
Kiowa Pecan is not waterproof and a small drop of water on the hand will result in smearing when run over dry ink. I'm inclined to classify this ink as semi-waterproof because the mess was not as bad as with other inks. If you do happen to add water, you might be intrigued by the beautiful rusty orange or gold that runs its way down the page. 
According to the chromatography, this ink is made up of beautiful pink, yellow and red components built upon a black grey base. A veritable rainbow of beautiful contrasting colours.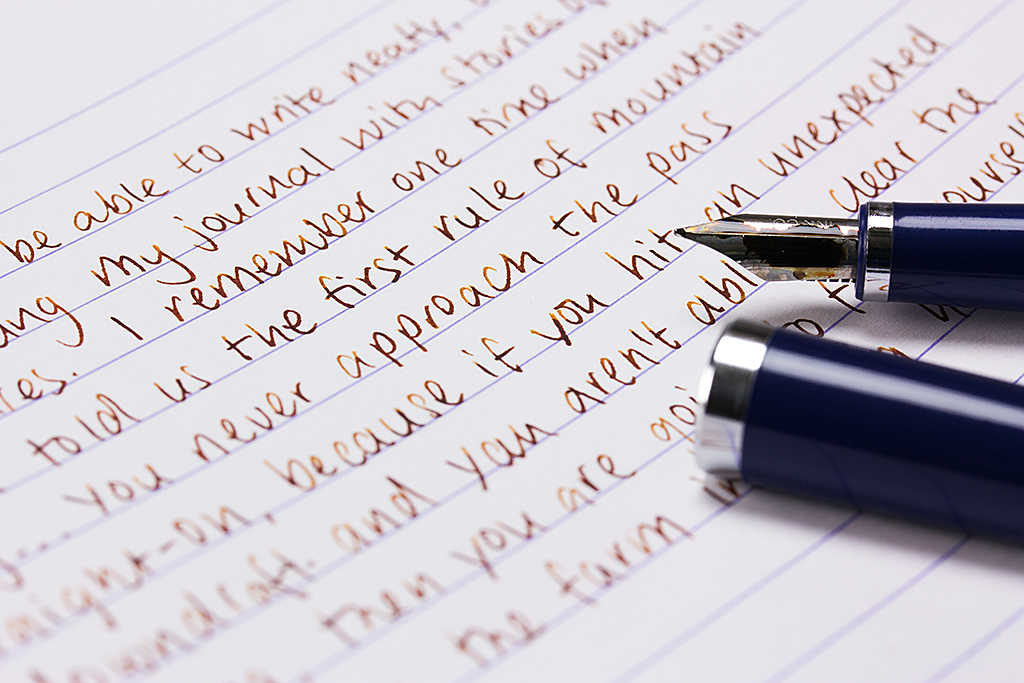 I picked four brown inks for comparison. Noodler's own #41 Brown is quite a different woody shade and perhaps a little bit ordinary compared to Kiowa Pecan with its overly rich texture.
J. Herbin's Cafe Des Iles and Waterman's Absolute Brown with its gorgeous deep contrasting saturation shows off Kiowa Pecan's earthy flavours with stark contrast. 
If you love brown ink but you would like to try something a little out of the ordinary then Kiowa Pecan might be the ink for you. You're sure to be be pleasantly surprised by its unique qualities.
If you don't like brown as your colour of choice, then perhaps this ink may change your mind. One feels that it should have a colour classification all of its own and it certainly stands out from the crowd.

Ink: Kiowa Pecan, 3oz Bottle from Noodler's Ink, USA.
Drying Time: 30 seconds.
Colour classification: Brown.
Shading: Good distribution between light and dark tones.
Saturation: Rich dense colouring.