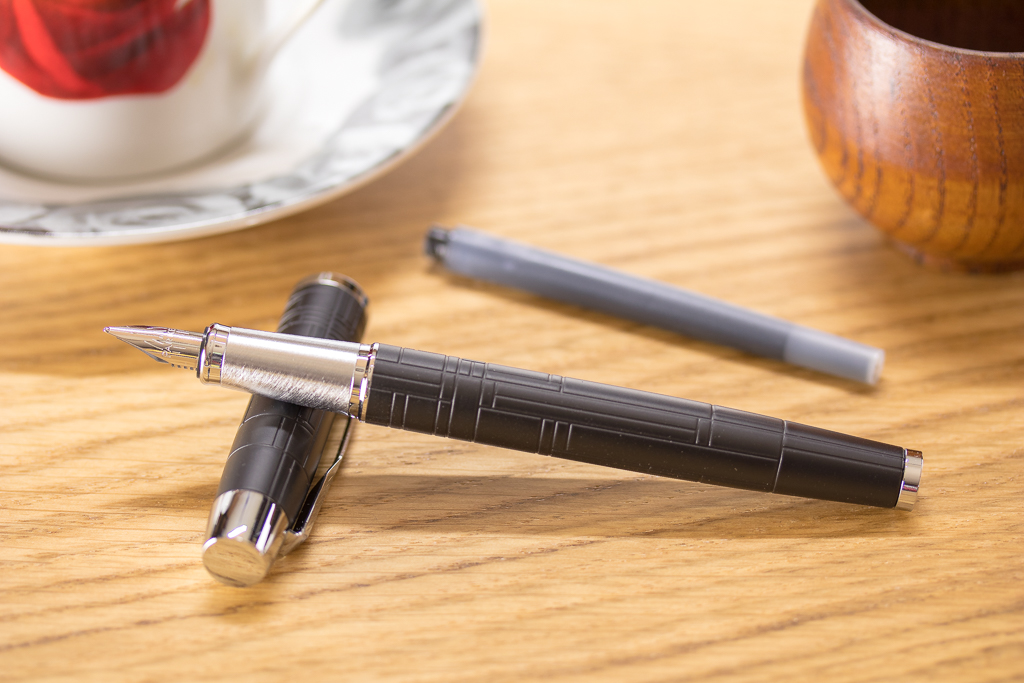 The name Parker has been synonymous with fountain pens for 125 years. The Parker Pen Company was founded in 1888 after George Parker became unhappy with the reliability of the products he sold. His unhappiness led to the redesign of the humble fountain pen and paved the way for years of design and innovation.
And the name Parker keeps coming back to haunt me. It hides behind corners and then leaps out at me when I least suspect it. I can't tell you the number of phone calls that I receive regarding Parker pens, whether antique or modern. I redirect those looking for information on fixing a bent nib or refurbishing a classic to a number of friends who are in that line of work.
I take care of the inquiries regarding Parker's modern pens. And to cater for the Parker addicts, we have recently purchased number of new Parker pen styles that will be on the website within a few weeks.
I've always thought that Parker had a distinctive classic look. Certainly compared to other pens such as Kaweco or Pilot, they look like a throwback to a day long gone. And I think this is part of their attraction.
This month I decided to test drive a Parker IM in Matte Black. I wanted to see what all the fuss was about! The Parker IM is the entry level fountain pen and currently retails at $75. For a relatively low cost, you will receive a very nice fountain pen!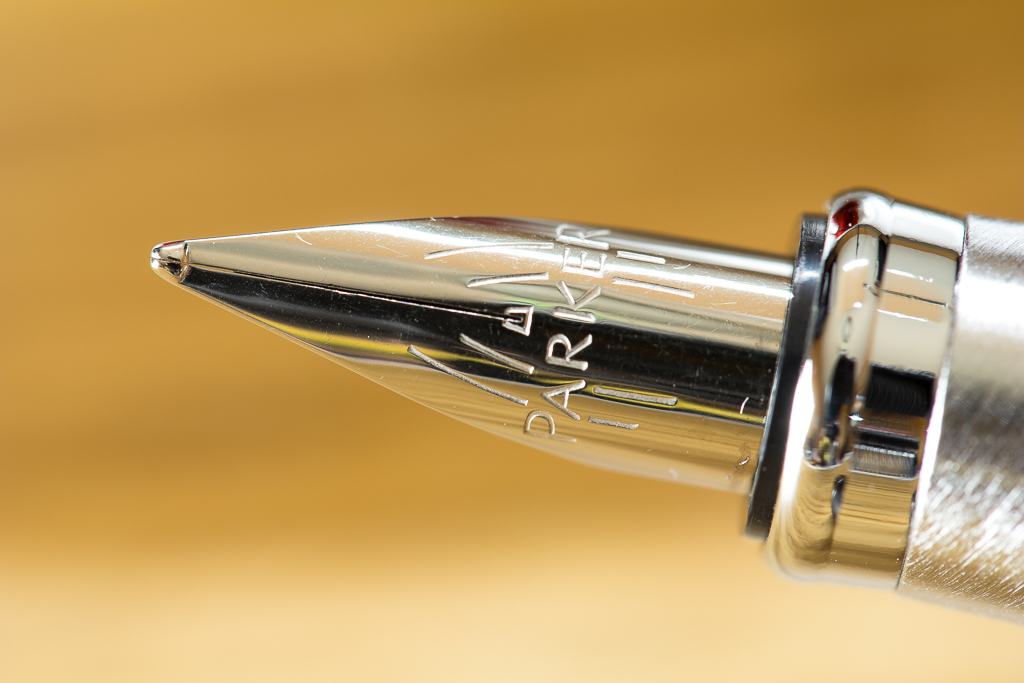 The line of Parker IM metallic fountain pens were released in 2014 and they pay homage to the Parker Vacumatic that was released in 1933. The Vacummatic became a Parker best seller and the new incarnation does a very good job of bringing back a bit of history. The original Vacumatic filling system isn't part of the modern IM launch but a trusty Parker piston converter does well in its place.
One thing to note with Parker pens is that they take a proprietary cartridge or converter. You won't be able to use your favourite J. Herbin international cartridges in this pen (or any other international cartridge for that matter) and you won't be able to reuse your converter if it's not a Parker.
This my only real gripe with the IM as Parker's ink selection (at least the ones we sell) is limited to blue or black. Kind of boring although they are nice inks. If you want different colour then you'll need to use a Parker converter to fill from a bottle.
The Parker IM delivers great quality. The barrel has a solid feel about it as does the metal nib section, which is a joy to hold. The chrome trim of the matte black IM looks nice and the cap is fitted with the classic Parker arrow clip.
In terms of nibs, I think the Parker IM delivers one of the best for the price. The stainless steel nib is robust and solid and has very little flex, if any. The feed covers the entire area beneath the nib and delivers good ink flow. It should be noted that the nib only comes in medium. By far our most popular nib size for the pens that we sell is fine, but don't write this pen off based on that. The nib is extremely smooth to write with and delivers a finer line than a Kaweco medium, for example.
The cap is a snap-on and I love the feeling you get when putting it on or taking it off. It fits extremely well and provides a wonderful airtight seal. I do like the feel of the lacquer barrel on the matte black IM and together with the cap, the wonderful nib section and the nib, the whole package feels like a solid product for the price.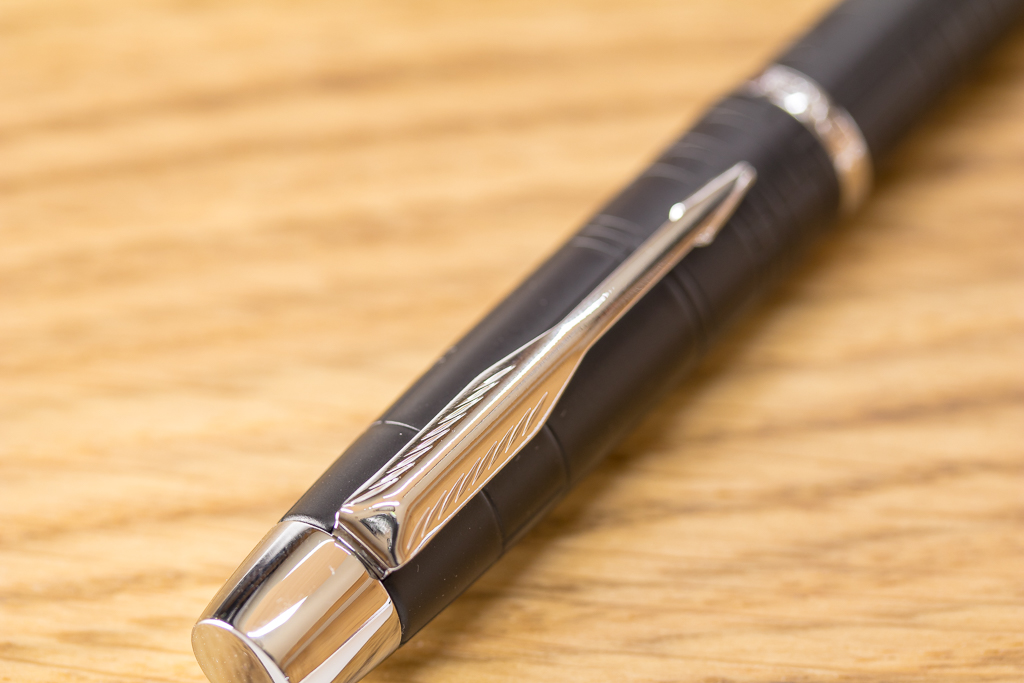 The first ink I tried in the IM was Noodler's Ink Bad Green Gator. I have to admit I thought that something might be wrong with the pen because I the ink dried out in the nib and didn't flow well after a couple of days without use. But perhaps the less forgiving, non-flexing nib is a factor here.
After refilling with J. Herbin Orange Indien I didn't have any problems. The same can be said about Diamine Red Dragon. I find some pen and ink combinations are a less than ideal, particularly with pens that are a little less forgiving. I have a feeling that if you stay away from boutique inks and use a higher grade ink then you may have quite a different writing experience.
If you're looking for a lower cost fountain pen as a gift or perhaps an every day writer that you won't mind losing, then consider the Parker IM. All in all it's a solid fountain pen that shouldn't give you any problems and could become the mainstay of your writing for years to come.
Specification:
Material: Lacquer.
Closed: 140 mm (5.5 inches).
Posted: 158 mm (6.2 inches).
Cartridge included: Black.
Cartridge type: Parker.
Cap type: Snap.
Nib: Medium.
Nib colour: Chrome.
Nib material: Steel.
Weight: 32g (1.12 oz).
Presentation box included.
Find the Parker Premium IM and matte black at Knight's Writing Company.