I won't pretend to be a good writer (those of you who have received my notes will know) and I'm certainly not a calligraphy nut, but within the last year we have had a few customers ask us to stock 'fancy' nibs that would fit regular fountain pens. Nibs that would give their handwriting a bit more pizzazz.
There are many types of pen holders and nibs for the serious calligraphy enthusiast, but what if you just want to give your favourite fountain pen something a little out of the ordinary occasionally?
As luck would have it, most fountain pen manufacturers also offer stub or flex nibs that you can use to give your lettering those swirls and twirls you have been longing for.
Drips and leaks will hopefully be few and far between and you won't have to dip directly into an ink bottle.
Hopefully more are on the way in the future, but here are the nibs that we currently stock at Knight's Writing Company.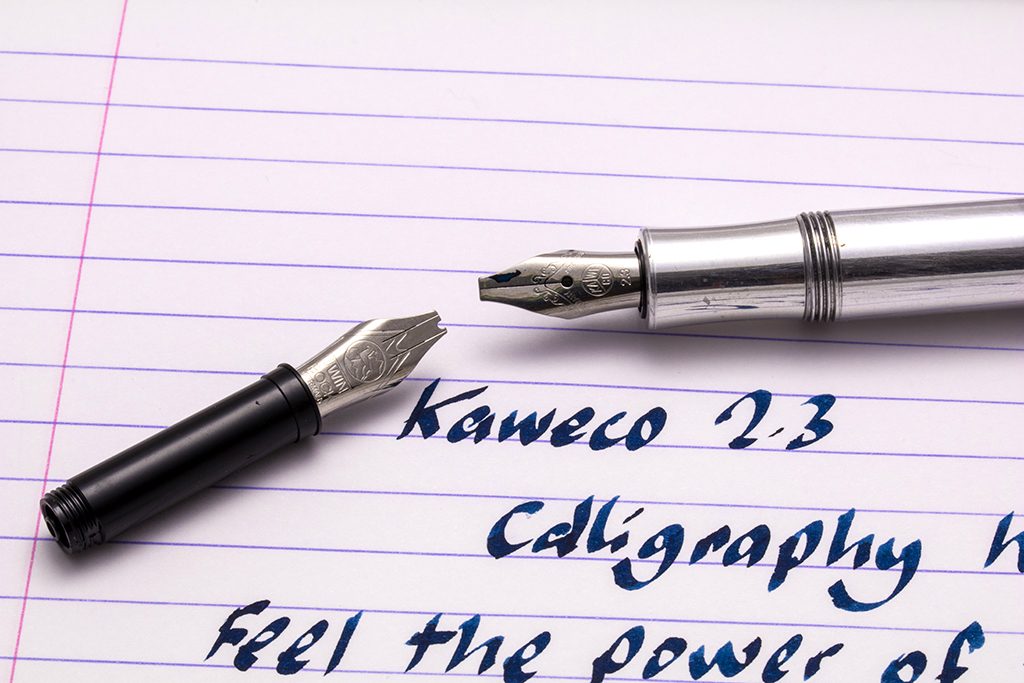 Kaweco:
First comes Kaweco! We have a lot of love for the Kaweco Sport in particular, but all of their fountain pens are delightful.
What's great about the Kaweco family is the ability to easily unscrew the nib section from the barrel and switch up nibs.
This will only work with the higher end pens such as AL Sports, Liliputs and DIA 2 to name a few. You may have to upgrade from your plastic Sport.
Kaweco offer a wide range of stub nibs – from the thin 1.1 mm nib that offers just a little shading, to the monster twin nib that gives your writing a real Gothic twist!
Kaweco is always a winner and comes highly recommended!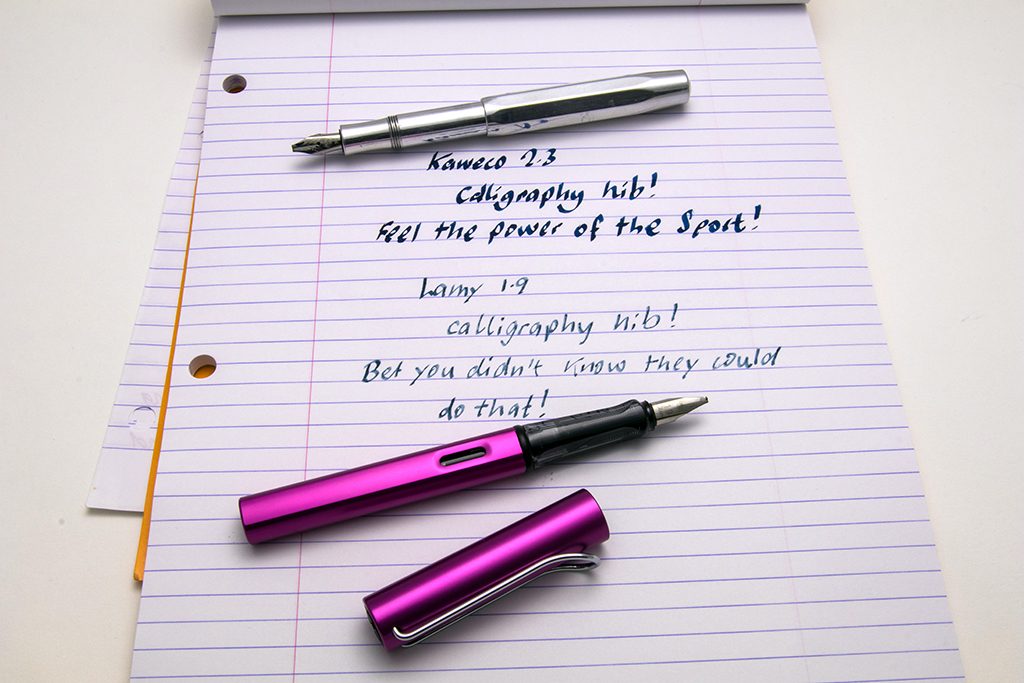 Lamy:
Lamy offer a great writing experience in all their fountain pens. Most customers who own a Lamy will know how easy it is to slide the nibs on and off of the feed – even when the pen is full of ink!
Lamy offers a smaller range of stub nibs compared to Kaweco but their nibs perform none-the-less.
Enjoy a thinner 1.1 mm nib for elegant shading or Gothic it up with the 1.9 mm.
Conklin:
Conklin offer beautiful fountain pens with acrylic barrels. The Duragraph and All American being the most popular.
Conklin offer the usual size nibs that you would expect, but this American company also offer a 1.1 mm stub nib and the Omniflex nib – a pointed nib offering some flex and therefore line widths that vary with pressure.
Grab one of their limited edition Duraflex fountain pens for a real treat!
Noodler's Ink:
Noodler's Ink are a popular brand and famous for offering flex nibs in all of their pens.
These pointed nibs offer varying flex and once mastered give the writer the ability to create different line widths by changing the amount of pressure the nib receives on the paper.
Noodler's Ink aren't for everyone, but if you don't mind nibs that are a little rough, some inky leaks and fiddling about with your feed then try a Noodler's.
Otherwise, stick with one of the mainstream manufacturers mentioned above!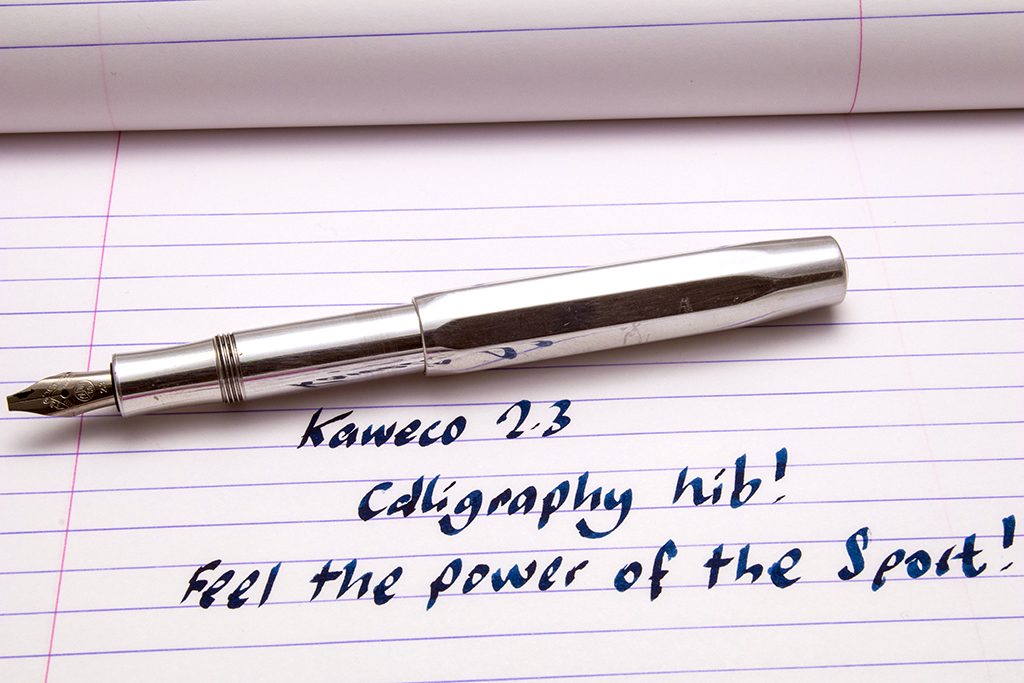 You don't have to be a calligraphy expert to enjoy stub or flex nibs and with a little bit of practise you'll be suprised how easy it is to create some extra character in your writing.
These fun nibs are great for Christmas cards, letter writing and even everyday use.
Stationery Used:
Kaweco AL Sport RAW: $96.56 CAD.
Lamy Safari Al-Star, Vibrany Pink: $69.00 CAD.
Rhodia Large Notebook, A4: $10.00 CAD.
Kaweco Calligraphy Nibs: $14.26 – $39.50 CAD.
Lamy Calligraphy Nibs: $25.00 CAD.
Monteverde Blue-Black Ink, 30ml: $12.50 CAD.