The Esterbrook Pen Company was established in 1858 and reborn in 2018 with the help of New York based creative branding firm, Kenro. Kenro are experts in their chosen area of focus – premium fine writing and watches – with over 26 years of expertise in design, marketing and distribution.
And wow oh wow have Kenro done a good job with Esterbrook!
Richard Esterbrook established his New Jersey based pen company in 1858. Esterbrook soon became one of the most loved pen makers in the world with over 200 million produced and sold per year.
The company influenced a big part of American history and former US presidents, Abraham Lincoln, John F Kennedy and Lyndon B. Johnson signed legislation with their Esterbrook pens.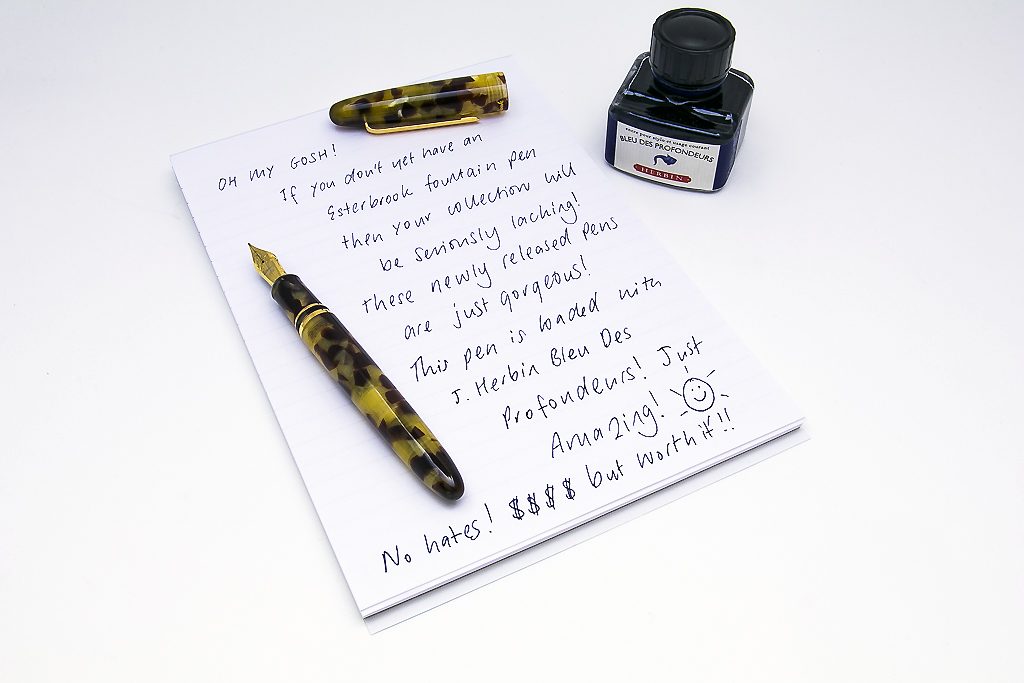 Fountain pens, fine paper and inks are going through somewhat of a revolution today. And these analogue devices are once again becoming popular with young and old. It seems that Kenro's revival of Esterbrook could not come at a better time.
And they are making amazing fountain pens worthy of a space in everyone's pen roll! We are lucky enough to be able to bring the Esterbrook Estie to our customers here in Canada.
The pen comes in three gorgeous colours. Colbalt blue, tortoise and black with either gold or silver trim. I decided to take a tortoise gold trimmed pen for a test drive the last couple of weeks.
I loaded it with J. Herbin's Bleu des Profondeurs ink and tested it on a variety of paper including Clairefontaine's Triomphe writing paper. The combination of three luxurious products did not disappoint.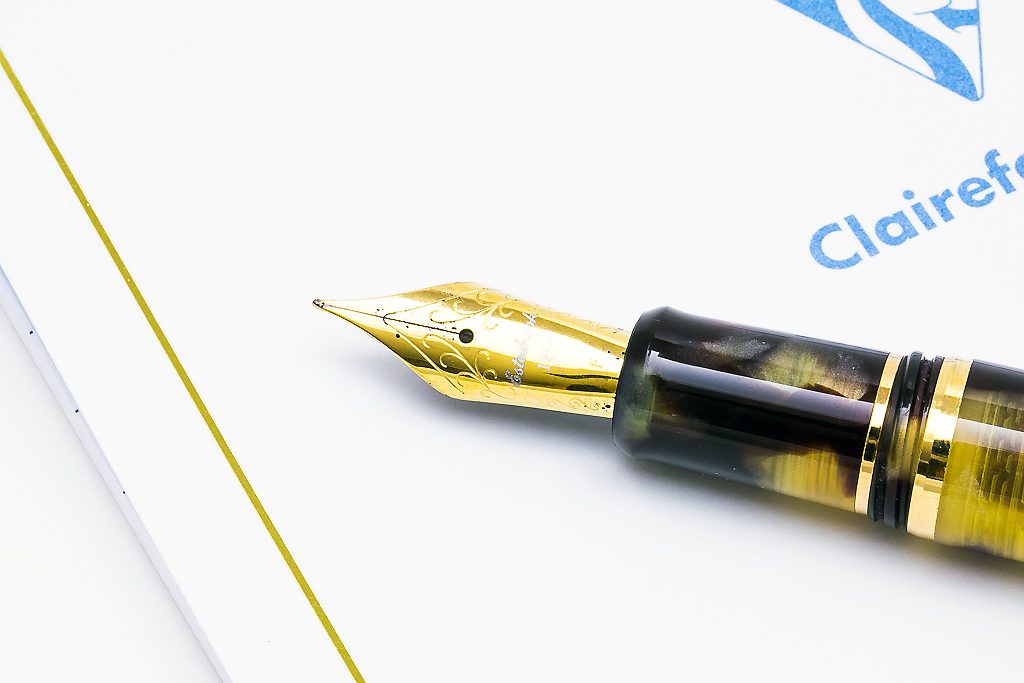 The first thing to note about the new Estie is the size 6 JoWo nib. The nib ranges from extra fine to broad and it is delightful to write with!
There is an ongoing debate about the merit of pure gold nibs versus stainless steel, but the truth of the matter is that modern day steel nibs are more than a match for their gold counterparts.
JoWo is one of the world's premium nib manufacturers and many fountain pen makers use them in their pens. In my mind Esterbrook made the right decision to opt for JoWo.
The Estie's acrylic barrel is solid and a great weight in the hand. The cap screws on perfectly every time and you can feel confident that the seal is good and the ink won't dry.
I particularly like the cushion cap closure. On closing the pen you have to push a little to engage the threads. There is a quality feel about opening and closing the pen.
The same is true about connecting the nib section with the barrel. I always look for good tight closure between the section and barrel as well as a rubber grommet to stop untimely undoings. This pen has both.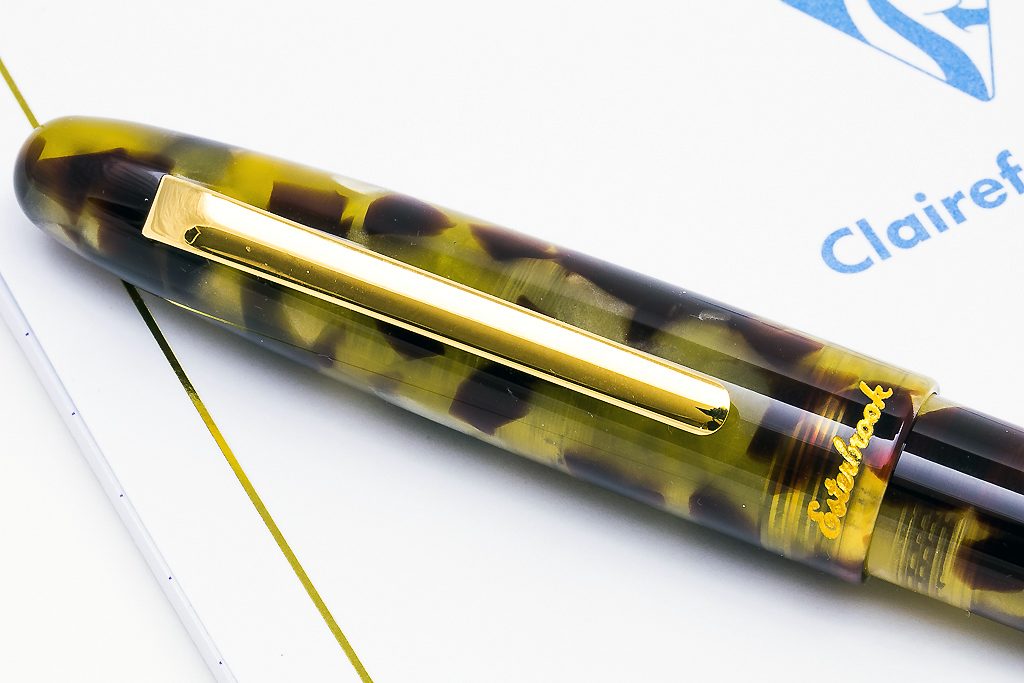 The barrel is acrylic from top to bottom. Some pens – such as Conklin's Duragraph – have plastic ends with an acrylic middle and I never quite feel complete.
The whole feel of the Estie is one of class. In terms of writing, the pen is a joy! Super high-quality Triomphe writing paper is amazing to use at the best of times, but coupled with a gorgeous ink from J. Herbin, a JoWo nib and an amazing barrel, the writing experience is second to none.
Each pen comes with a Schmidt ink converter, so you can use bottled ink. International standard cartridges are also an option if you prefer.
Esterbrook also sell an adapter that can be fitted to the Estie and allow you to use your vintage Esterbrook nibs with the pen body. This is a neat idea because there are many vintage nibs floating around in people's pen cases.
Although I haven't tried the nib adapter, we have had inquires and I'll be watching out in antique stores for the odd vintage nib or two.
All in all, the new Esterbrook Estie oozes quality and luxury. The pen has a 1930s vibe and is gorgeous to hold and write with.
The price point could be a little high for many fountain pen enthusiasts, but as the saying goes, you get what you pay for. In this case it's true.
This pen is a delight! And one that would be enjoyed for years. From the gift box that the pen comes in to the writing experience – this is one of my favourites!
Stationery Used:
Esterbrook Estie, Tortoise, Gold Trim: $265 CAD.
Clairefontaine Triomphe Pad, A5: $5.50 CAD.
J. Herbin's Bleu des Profondeurs : $14 CAD.