We wanted to bring Ferris Wheel Press fountain pen inks into Knight's Writing Company for a couple of years. It hasn't been easy to watch from the sidelines as other retailers added these fabulous inks to their stores – but now we also stock the World's Most Uplifting Fountain Pen Ink.
Good things come to those who persevere.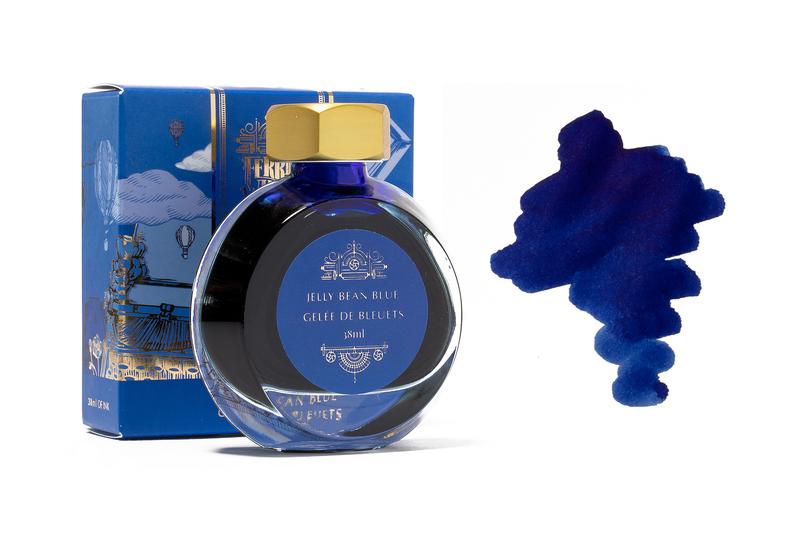 So who is Ferris Wheel Press? The company was founded by Deborah Lau-Yu and Raymond Yu in Toronto. With a love for stationary and printing, the intent was to create a lifestyle brand with some nostalgia of carnivals, print shops, cotton candy and a brand where whimsical sights and sounds could be found.
… and boy did they succeed…
When you receive a bottle of Ferris Wheel Press ink, you first notice the boxes that the ink is packaged in. They have supreme quality and design and you almost want to start a collection of… well… boxes.
A lot of my time stashing the inks on the shelves when they arrived was spent looking at the amazing artwork and packaging. Hot air balloons, cloudy skies, cats, dogs and geese. Quality oozes from the printing and the cardboard.
Other companies could do well to take note. The packaging is sublime. And this is important!
… and this is a Canadian company … Wow! …
And being a Canadian company is a big point for me. A huge point.
There are a lot of boutique ink manufacturers that are extremely popular with fountain pen users.
Several of these are from the US and there are some from Europe. Some of the ink quality is less than perfect and production is spotty. This can also be true of larger ink producers.
But Ferris Wheel Press has excelled itself – and you can feel the love.
They appear to have put themselves up at the top of the fountain pen ink food chain with the likes of Waterman, Diamine and others who produce high quality inks that fountain pen users love.
This is refreshing from a relatively new manufacturer. And certainly not boutique!
… and a Canadian manufacturer, to boot (I already said that) …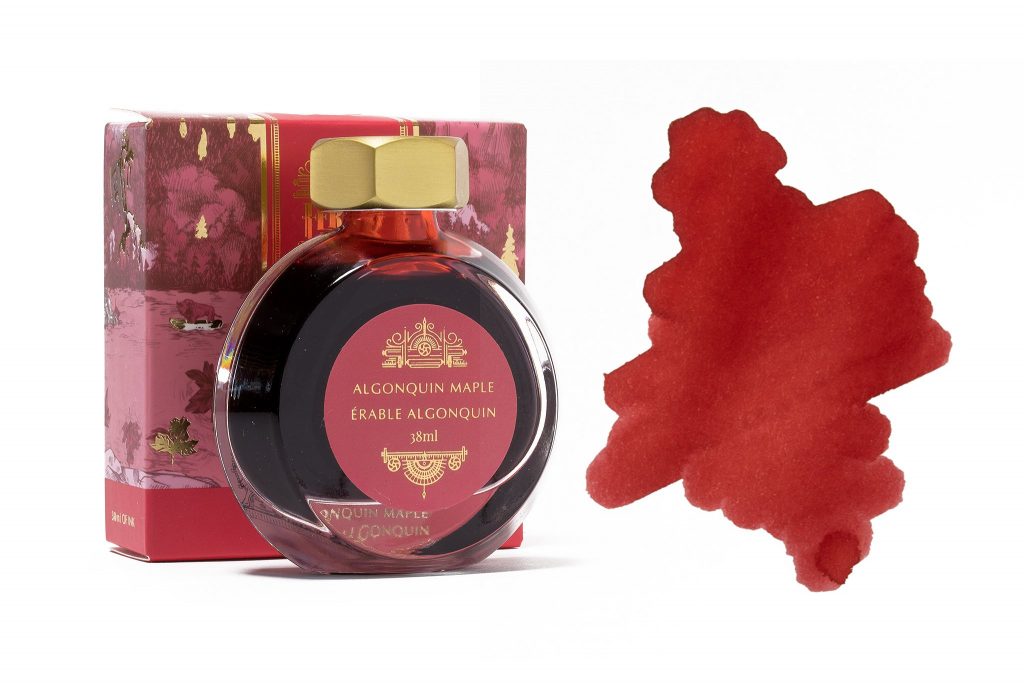 I loaded a couple of pens with ink – of course a nice demonstrator TWSBI 580 – and I was instantly drawn to Jelly Bean Blue (mostly because of the packaging, blargh!).
What a nice smooth ink!
I have chicken scratch handwriting, but now I feel as if I have high quality smooth chicken scratch handwriting with an ink that makes me happy to write with!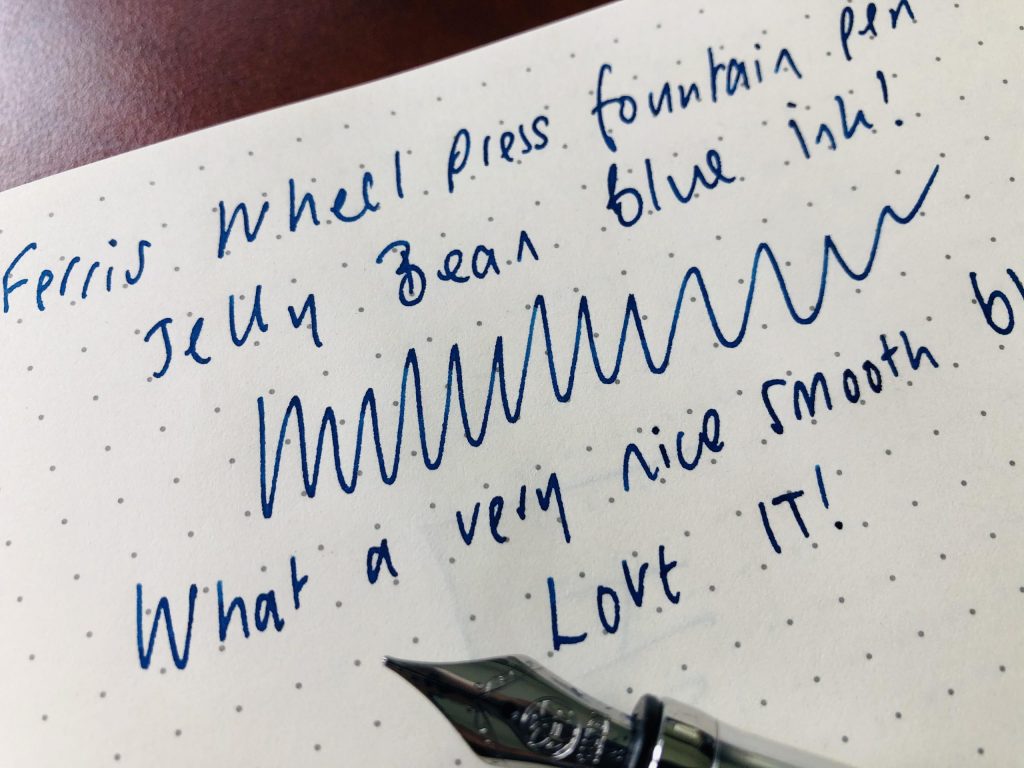 Jelly Bean Blue doesn't have a lot of sheen or variation on my Rhodia Dotpad, but it is the perfect blue for me. I'll be interested to try some of the other inks we picked up.
You can get a sense of the colours from our product pictures – we took these ourselves and so I can guarantee that the colours are as accurate as we could get and the swatches – all our own handiwork – really show what to expect.
… but … a couple of notes of caution…
Ferris Wheel Press have some shimmering inks that contain particles of gold and silver, but it might not be obvious in the name.
I'll let you figure it out (ok… Misguided Mistletoe, Sparkling Champagne, April Showers might be included).
Another word of caution. Currently we only have the 38ml bottles in stock. The bottles themselves have a narrow mouth, but should be wide enough for most pens.
However, the bottles are quite thin in depth compared to their width!
Careful if you are clumsy because they could fall over more easily than your typical Diamine cube shaped bottle. I almost cow-tipped over a couple I sneaked up on during our photo shoot.
That's not to say this is a real problem, just be aware. But oh, the bottles are true gems themselves!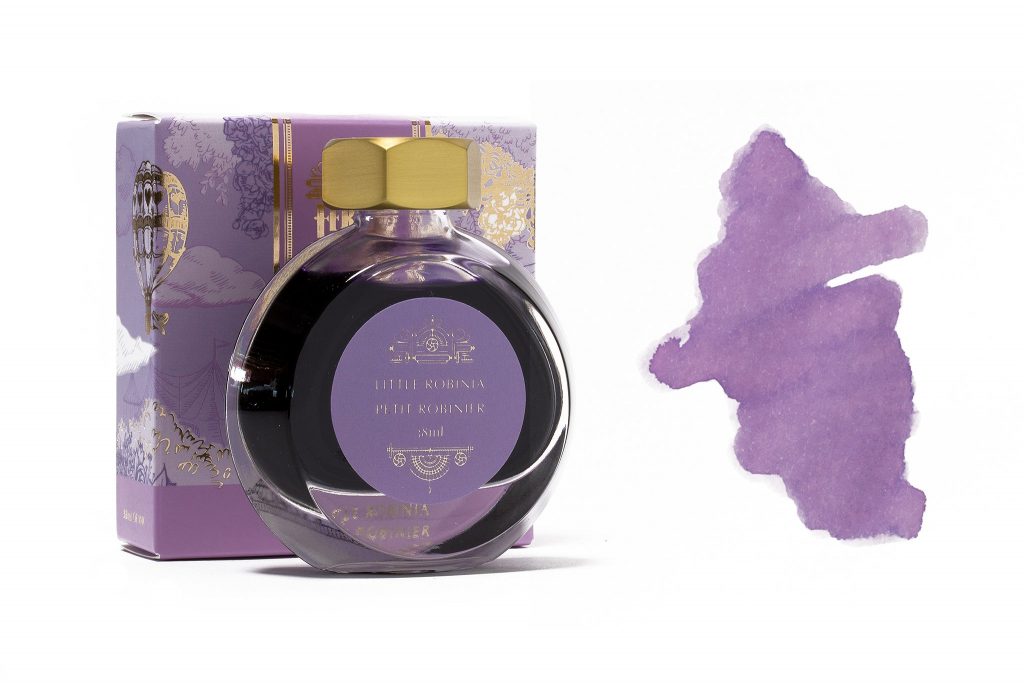 All in all, I have had a very positive first experience with Ferris Wheel Press fountain pen inks!
The team at Ferris Wheel Press have also gone above and beyond and have been amazing to work with.
It feels like a good day to be a fountain pen and ink lover! I'm sure Ferris Wheel Press fountain pen ink will become a much loved staple for us.
Products Used:
Ferris Wheel Press Jelly Bean Blue, 38ml.
Ferris Wheel Press Algonquin Maple, 38ml.