Oftentimes things that are ever so slightly out of the ordinary attract my attention. The dark coloured BMW of a successful businessman but with pink wheel rims. The girl walking a dog that is twice her size. A small cat chasing that same large dog the next day.
And so when we received our recent shipment from Waterman Paris, the first pen I noticed was the stainless steel Hemisphere with gold trim.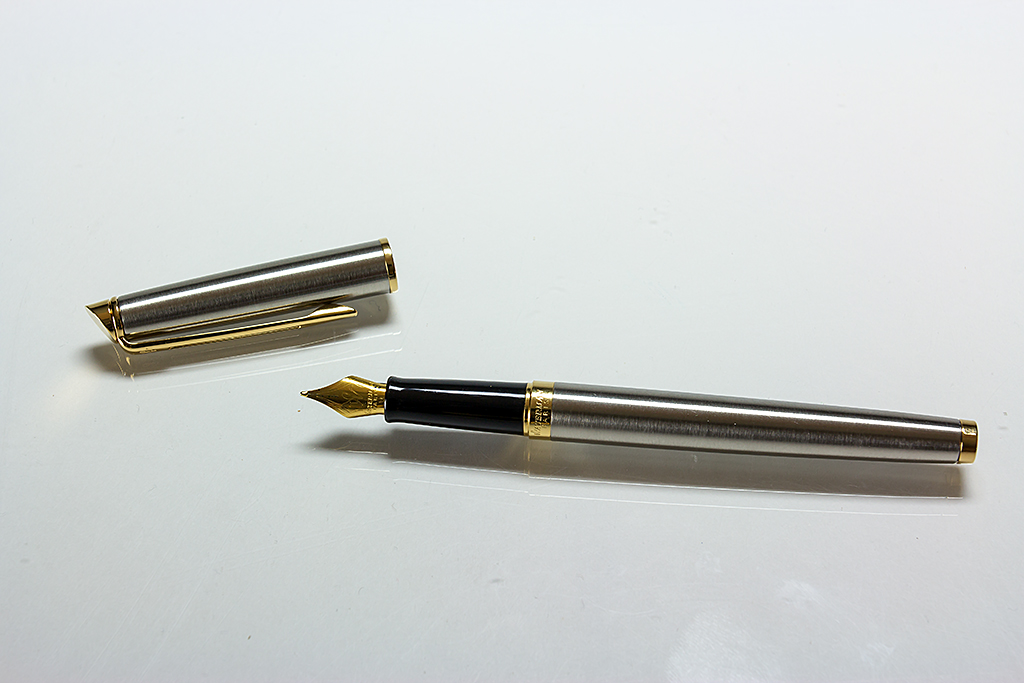 It was striking. In a contrasting gold silver kind of way. The new Ombres et Lumieres collection was high on the list of many pen-buyers, but this forgotten classic in stainless steel was in my mind gorgeous.
This Hemisphere comes in two flavors, with chrome or gold trim. The cost of them is lower than the lacquer Hemispheres, but don't let that make you think these pens are any less in terms of quality. Nibs are gold plated and come in fine or medium.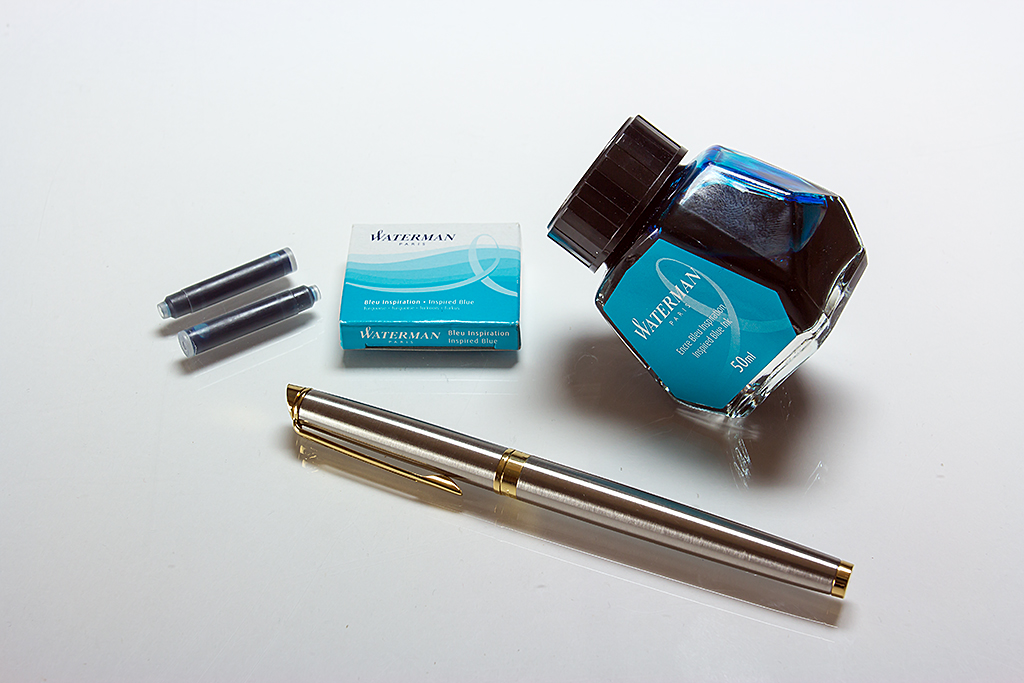 Given I was having a very strange week, I decided to couple my newly unboxed fountain pen with a cartridge of Inspired Blue ink, also from Waterman Paris.  I'd normally settle for a more formal blue, black or brown but the dog and cat and BMW made me want to be a little different.
Waterman's Hemisphere range of fountain pens accept international standard cartridges. This means you have a large selections of inks from many manufacturers to choose from. You can also add a converter from Waterman or any manufacturer that adheres to the international standards.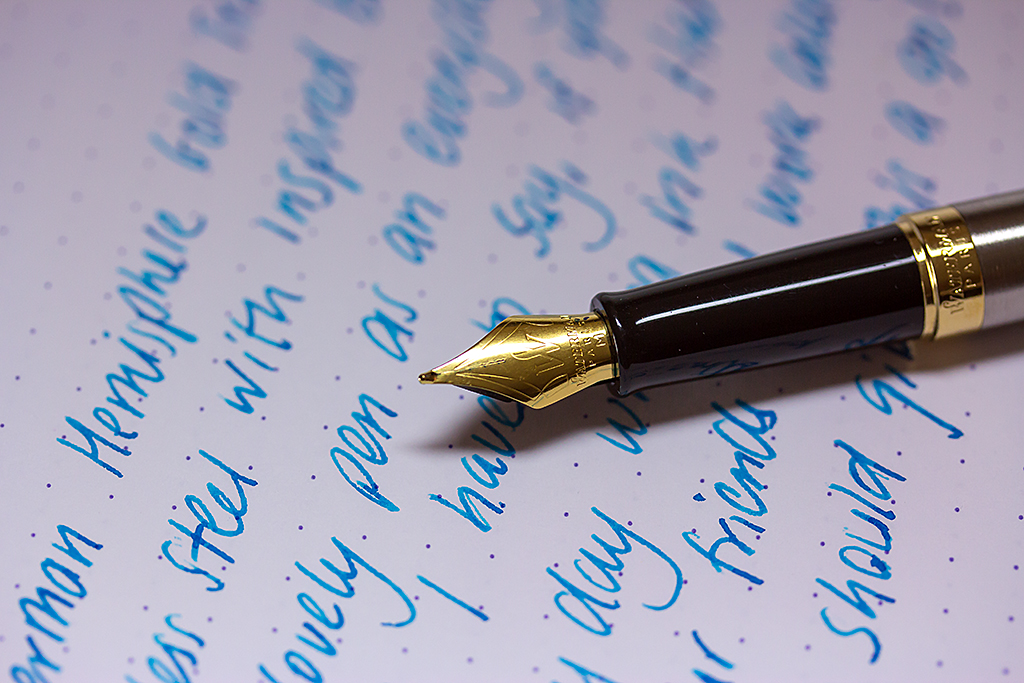 We've sneaked three pens from the Hemisphere line for use in the office and each pen has had a very smooth nib. Waterman nibs are a little broad. The medium nib writes fairly wet and thick and the fine nibs are a little broader than expected.
Fans of Japanese fine nibs will definitely find the Hemisphere thick, but don't give up on the pen - the smoothness of writing might just persuade you to give it a second look.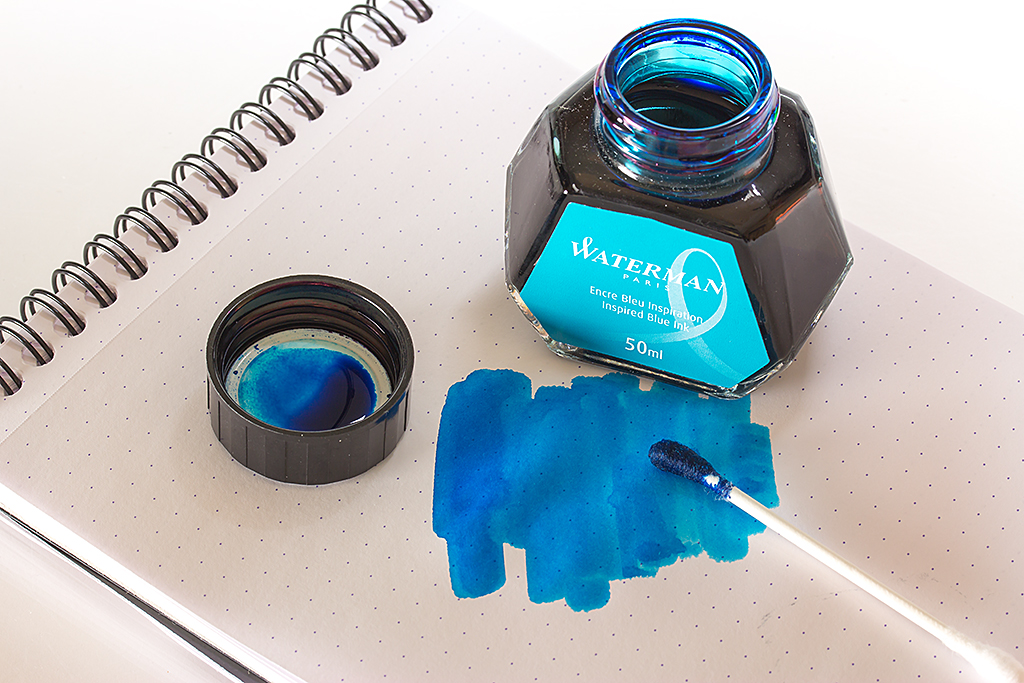 And what can I say about Inspired Blue? Well, it's gorgeous. As with other Waterman inks there is lots of contrast and less in terms of shading. The ink easily flows but is not watery.
You would be forgiven to think that this bright blue Caribbean-sea ink would be hard to read on bright white paper - but it isn't. It dries well and has great saturation. It leaps out of the page at you especially when dry.
Couple Inspired Blue with this beautiful ying-yang of a pen, and it's sure to find a place in your heart.