Shunichi Nakata founded the Platinum pen company in 1919. The company has been in the pen business for nearly one hundred years and represents something very special. A long history of bringing fine writing instruments to the consumer.
In the writing instrument business the finest pens come from the organizations with the longest histories. Platinum is no exception.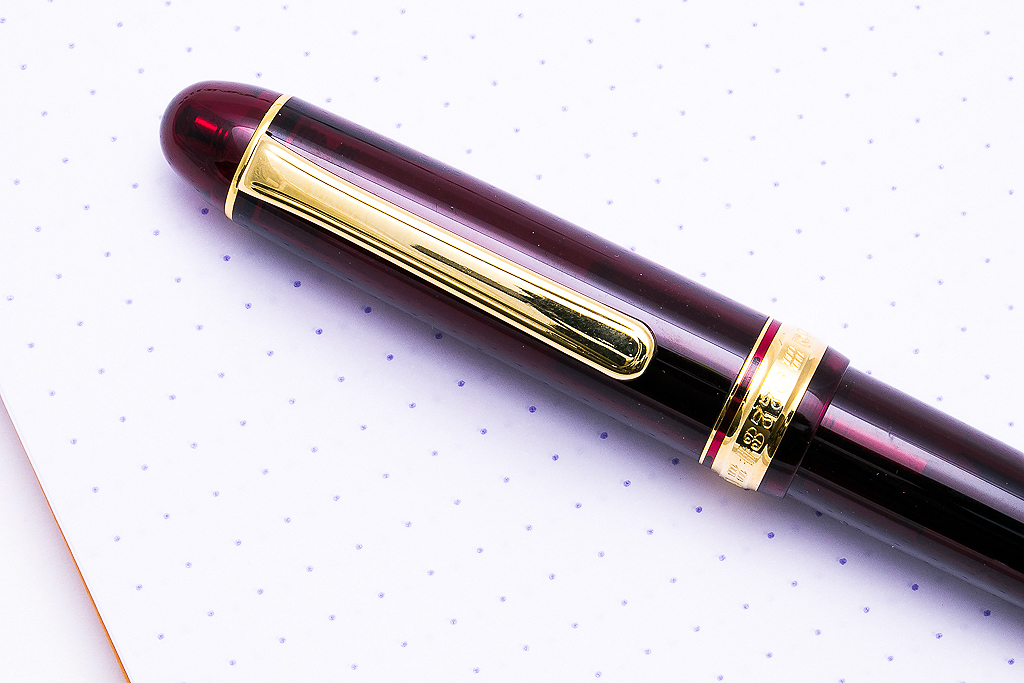 It's a real joy that we are starting to bring more Platinum fountain pens to our store.
Our recent acquisition of the #3776 Century is just the start and I decided to take the Bourgogne for a test drive and see if it was as good as the other Platinum pens I had tried.
I've always loved the surgical precision with which the Japanese have manufactured their fountain pens. The #3776 Century does not disappoint.
The original #3776 series was designed by the late writing expert Haruo Umeda (also known as Mr. Fountain Pen). The aim was to create the ideal fountain pen.
It was made available to the public in 1978 and it took just six months for 150,000 pens to be sold. Its popularity has been maintained ever since. And with good reason. This fountain pen is gorgeous!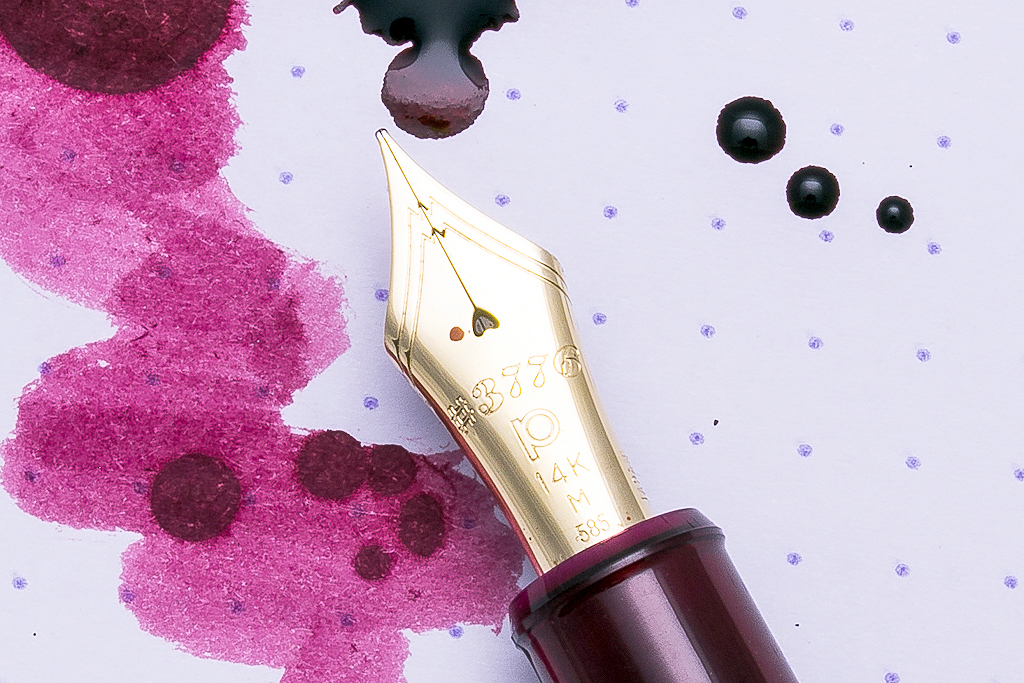 The first thing to notice about the #3776 (which incidentally is the height of Mount Fuji in meters. No co-incidence here) is the nib. It is 14-karats of gold that writes sublimely.
I decided to use a medium nib for my writing tests and it performed beautifully. The tines were perfectly aligned out of the box. As expected from a Japanese pen, the medium nib matched a European fine.
I filled the pen with Monteverde Napa Burgundy ink and wrote on a Rhodia notepad. The nib doesn't flex a great deal but did write without any skipping or blots or railroading. Surgical precision.
The sound of pen on paper is more noticeable than with other pens. I initially thought this would result in a scratchy writing experience, but I was proven wrong.
On one occasion this week I ended up in a room of twenty people, all writing in total quiet. You could only hear the sound of this wonderful nib gliding across my notepad.
The pen feels very comfortable in the hand and it only took a short time for the nib to ease up and become a little less stiff than it is when it is first unboxed.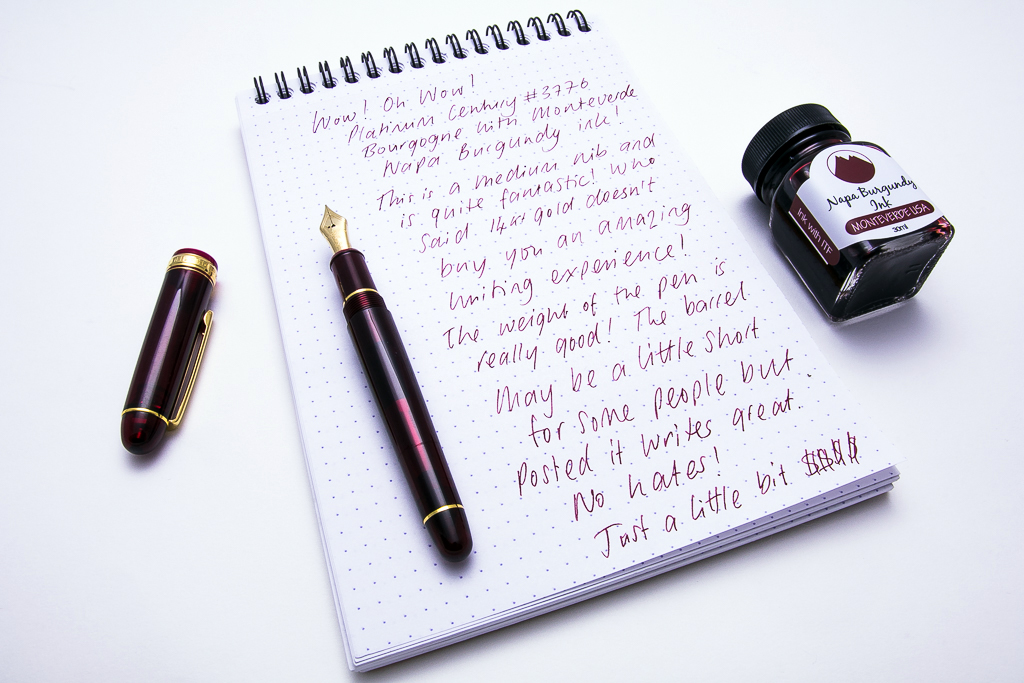 The #3776 Century comes with double broad, broad, medium, fine, extra fine and ultra extra fine (UEF) nib versions. Although we don't yet stock the UEF, I can't wait to try it. The medium leaves a fine enough line and I can't imagine how the UEF writes.
My initial thought on the barrel of the pen was that it might feel a little cheap and plastic-like. Once I started to use it I found this was not the case and very quickly fell in love with the translucent body.
The gold plated trim is pleasant and does add a little class to the pen (gold colour always does). It looks almost vintage. I also enjoyed using the clip in a shirt pocket and it was easy to use without much finger strength.
An interesting aspect to this fountain pen is Platinum's Slip and Seal mechanism. According to Platinum, it is difficult to make an airtight pen with a screw cap.
If the cap isn't air tight it causes moisture to evaporate and the ink to dry out. This becomes a real problem after three to six months and might result in a damaged nib or at the very least a hard time cleaning the innards.
The Slip and Seal mechanism deals with this problem and allows ink to retain at least 50% moisture after 24 months. I'll elect to believe Platinum about this rather than try it for myself. However, the pen did start perfectly every time I took it out to write.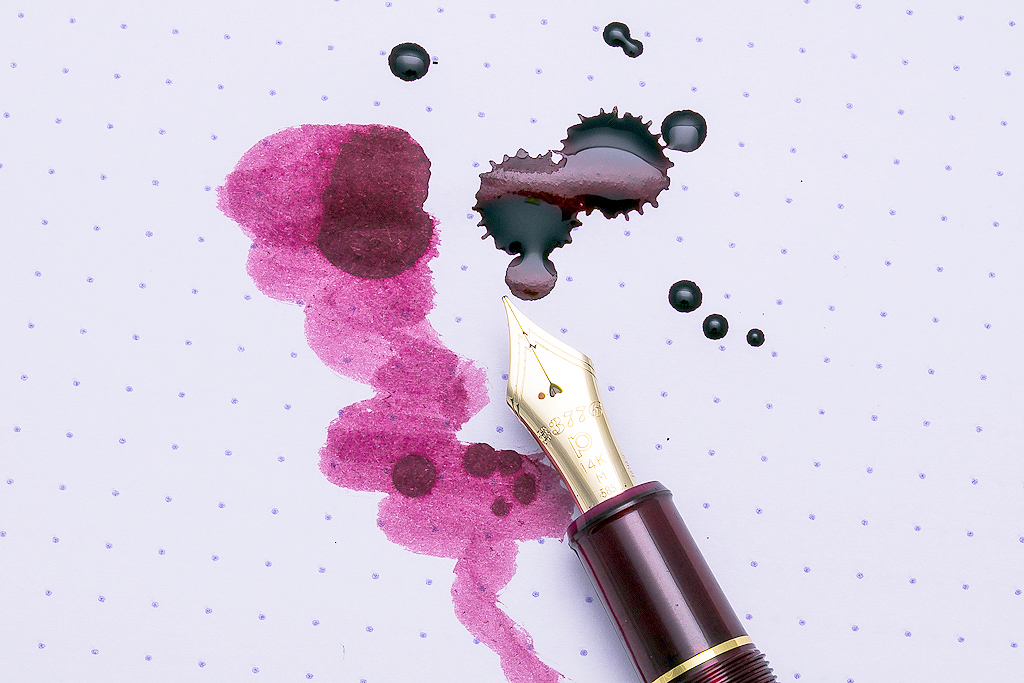 Knight's Writing Company sells this pen with a converter included. You have the option of using bottled ink or Platinum's proprietary cartridges.
I have a love-hate relationship with proprietary fittings, but I love the huge ball bearing agitator as well as the size of Platinum's cartridges.
They work well and are a great alternative if you don't want to mess around with bottled ink.
The #3776 is a costly pen due to the large gold nib and precision engineering. But it doesn't feel like a pen I would use then forget.
For me, this pen would become a favourite go-to writer and I'm having a hard time putting it down. I have a sneak feeling I might not give it back. I love it so much.
Stationery Used:
Platinum #3776 Century Bourgogne: $220 CAD.
Rhodia A5 Dot Pad: $6.95 CAD.
Monteverde Napa Burgundy Ink: $12.50 CAD.